jobs
Client PR Manager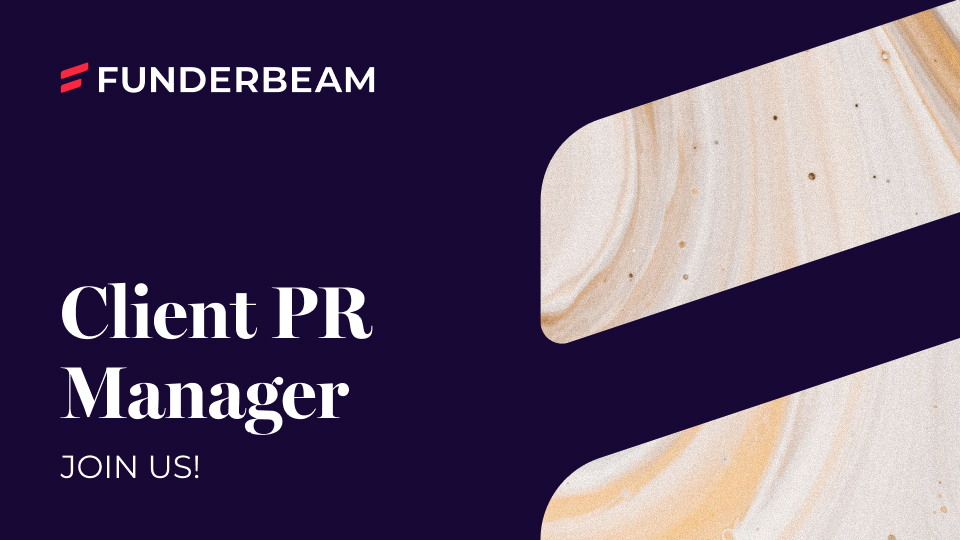 We are looking for a Client PR Manager to join our Tallinn team!
Funderbeam is the world's first regulated marketplace that enables investors to invest in global growth companies and trade those investments. It also lists existing shares and helps with secondary share sales of large private companies. Funderbeam serves investors from 130 countries and companies from Europe, the United Kingdom, and Asia. The Funderbeam Marketplace offers live and direct auto-match trading, allowing buyers and sellers to interact 24/7, 365 days a year, without the need for brokers or other third parties. Funderbeam was founded in 2013 and has offices in London, Singapore, Copenhagen, Tallinn, and Zagreb.
We are looking for a dynamic and well connected PR professional to help drive coverage and assure the highest standards of marketing support for our client funding rounds.
What will you do in the role?
Prepare, Launch, and manage PR support to founders and companies fundraising and trading on Funderbeam.
Write press releases, articles, social media posts, and conduct interviews with key people involved in funding rounds and companies trading on platform.
Make sure all social channels and relevant networks are updated regarding funding rounds and companies trading on platform on a daily basis.
Assist in production of podcasts, video interviews, online webinars etc featuring founders, investors and guests from outside of Funderbeam.
Work with influencers, external agencies, journalists and others to make sure raises and news of companies trading on Funderbeam are well covered in local and international press (where required).
Build and keep relations with local media houses as strategic partnership.
What are we looking for?
A minimum of 5 years of international PR or journalist experience.
Experience in building winning marketing / PR strategies and consistently exceeding growth targets.
Strong network in both print and digital media primarily in Estonia, the Baltics and wider European Countries (special focus on SEE).
Analytical, with excellent knowledge of analytic tools to identify new opportunities and measure progress.
Used to working in a high-paced start-up environment with an appreciation of the realities of building up new business
Team player, leader, and networker.
Excellent communication skills in English AND Estonian
Highly result-oriented.
What do we offer you?
You'll be working with a top notch team. We don't compromise when it comes to hiring.
A competitive salary and inspiring atmosphere with excellent co-worker.
Autonomy, excellent exposure to management, input into company direction, ideas, and growth.
Opportunity to participate in Funderbeam's employee option scheme
Private health care insurance or sports/wellness allowance
Do you have what it takes to be our new Client PR Manager? Apply Now!
We are an equal opportunity employer and value diversity at our company. We do not discriminate on the basis of race, religion, colour, national origin, gender, sexual orientation, age, marital status or disability status.
Read Next