Press release: Fintune raises €500k on Funderbeam to offer an irresistible financial literacy companion for generation Alpha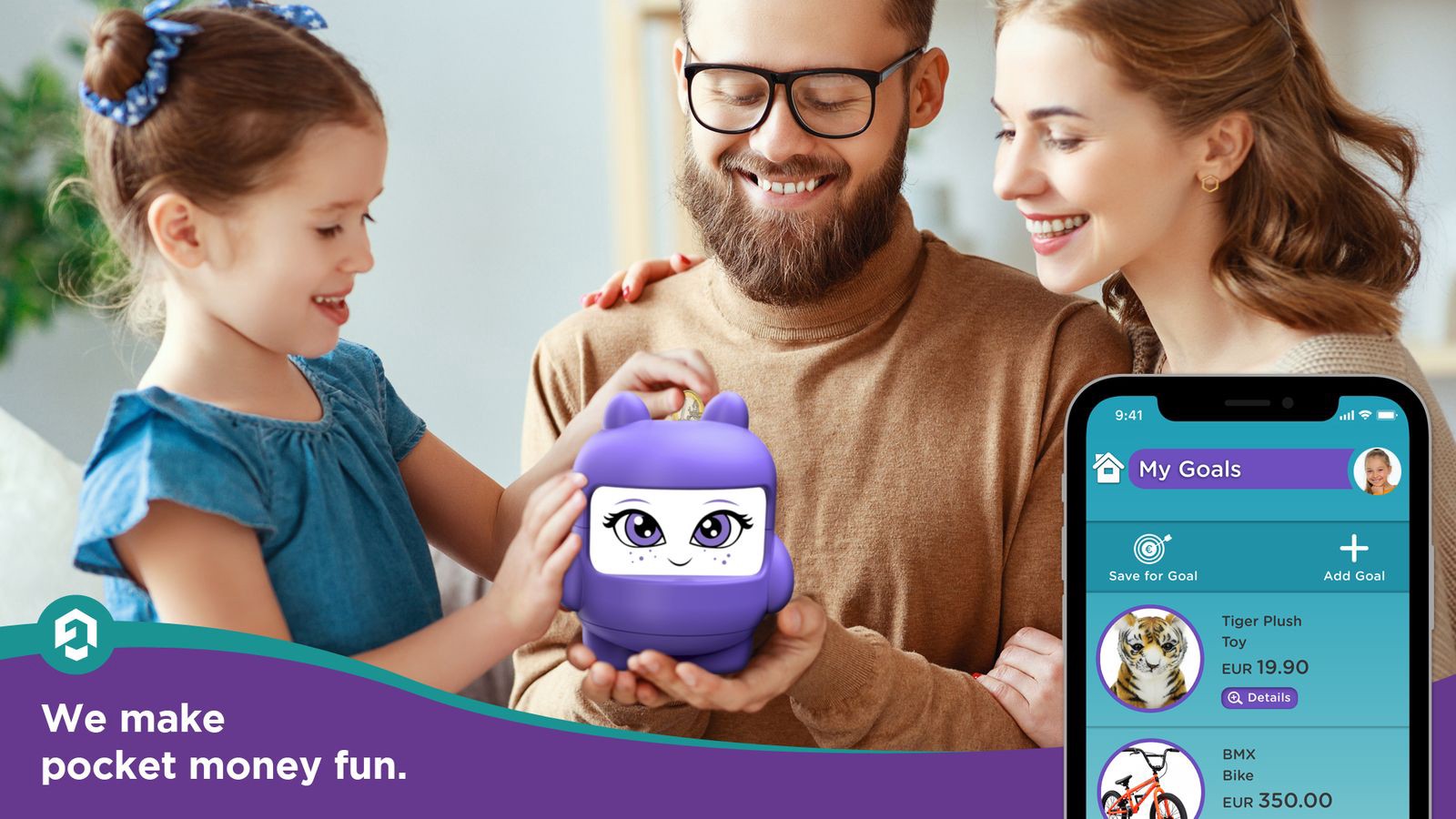 Former Credit Suisse executives develop an IoT solution to make financial education irresistible. The hardware introduces a digital money box called Finny teaching essential financial skills at an early age. Additionally, Finny apps connect the device and the first bank account with a gamified approach. The product is developed after input from 70 children, 10 families, and has 600+ beta-users.
Finny entitles children to set saving goals and wish lists. As they progress with their savings, kids unlock games, collect badges, and invite friends to see their progress on the leaderboard. The app allows full parental control and access sharing with designated individuals in the wider family community. Fintune also provides a toolset for parents to teach digital financial literacy. The company has its focus on a fun learning experience from a piggy-bank to a full bank account experience for 3–12 year-olds.
The long-term goal, says co-founder and CEO Ruth Mojentale, is to make financial literacy accessible and easy to integrate into the daily life of families.
"We have demonstrated Finny to parents and children, and experienced the incredible excitement to take Finny home First, we see the necessity to grow the userbase of early-adopters to finetune our product. But next, we focus on becoming appealing business partners for banks to boost scaling. The banking industry within the EU is highly competitive, driving the need to differentiate a brand from others. As children shape their relationship to finances until the age of 7, we empower banks to position themselves as opinion leaders for children making the first steps in the world of finances," she said.
Scaling the product with the help of banks is seen as the only way forward, because only 33% of adults worldwide are financially literate, and 43% of European citizens do not save anything privately for their retirement.
"We can expect a proportion of financially responsible parents to adopt Finny right after the launch, but a driving force from banks is essential to really make a strong societal impact. If there is a way to transform future Europeans financially literate, then starting playfully from the age of 3 seems as the best path forward," she said.
Fintune aims to launch its premium features and product on the Austrian and German market in Q4 2021. The company yesterday announced its public fundraising campaign on Funderbeam with the minimum aim of €200k and a maximum goal of €500k. Danube Angels from Vienna have committed both financial and business support and assume the role of the lead investor. Fintune has raised 457 000 euros to date through a combination of founder's equity, convertible loans, and debt instruments.
The founding team of Fintune includes former Credit Suisse employees. CEO Ruth Mojentale has a 28-year-experience in the banking sector and a strong record in leadership and innovation management. Andreas Kirchner holding the role of CTO was a lead-engineer for developing mobile apps and IoT solutions. Product owner Naziya Sayed has been previously responsible for quality assurance, delivery, and product management to build mobile fintech solutions.
Fintune AG, based in Zurich, offers financial service providers, telecommunications companies and learning providers a digital platform to bundle their offerings. Its digital app "Finny" supports families in the financial education of the youngest generation — children learn how to handle money sustainably, both in digital and physical form.
Funderbeam was founded in 2013 and is led by Kaidi Ruusalepp, who is a former CEO of Nasdaq Tallinn Stock Exchange and the Central Securities Depository. Funderbeam has offices in London, Singapore, Copenhagen, Tallinn and Zagreb.
Learn more about Fintune funding campaign here.
Capital at Risk.
Learn more about Funderbeam here: www.funderbeam.com
Read Next