How do I add and withdraw funds from my wallet?
What you need to know about adding money to and withdrawing money from your account
On Funderbeam, you can store funds so they are ready for new investments and trades. This is especially useful when selling smaller amounts, so you can withdraw the money in larger amounts, or reinvest them at a later point.
Adding funds to your wallet
Before you can add funds to your wallet, you must first verify your identity so you are ready to invest. Once you are verified, you can add funds by logging in to your account and clicking on the green "ADD FUNDS" button on your dashboard.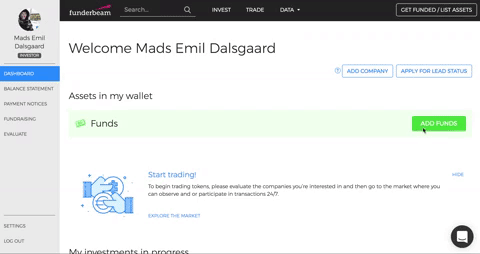 On the following screen, you will be provided with all the details needed in order to make a bank payment.
At the moment, it is only possible to add funds to your account using bank payment. Please make sure you use all the details exactly as requested! Also, you must always make the payment in the same currency as the intended investment, as we do not make currency exchanges on behalf of users.
Withdrawing funds from your wallet
If you have funds in your wallet, you can withdraw these at any time, by simply clicking "Withdraw funds" from your dashboard and choosing how much you want to withdraw.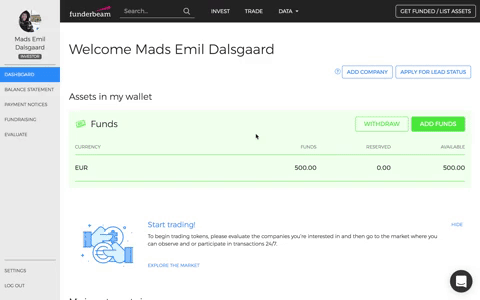 Please note that if your funds are reserved for a pending investment or trade, you will not be able to withdraw them.