Listing on Funderbeam
The complete guide to Listing on Funderbeam: Creating unique liquidity for high-growth companies.
Executive summary
Funderbeam has created a global marketplace for private companies. With more than 15,000 investors and offices in 5 different countries, The Marketplace is a fully regulated platform that operates 24/7, 365 days a year, allowing companies to list their shares and shareholders to get direct access to liquidity.
Established marketplaces like AIM and NASDAQ First North require extensive input from advisors, accountants, and legal professionals resulting in a listing process which can take up to a year and be prohibitively expensive.
Listing on Funderbeam is a straightforward process made up of the following steps:
Complete basic due diligence
Sign the Admissions and Service Agreements
Join the Funderbeam platform
Transfer shares and begin trading
From start to finish these steps can take from a few weeks to a few months (depending on how quickly information is made available and how fast shareholders act), and once complete, shareholders are able to trade directly with one another rather than having to go through intermediaries.
Trading on the Funderbeam Marketplace is simple and accessible. Once shares have been transferred to an investors wallet, shareholders are free to start trading on the Marketplace. Funderbeam's enhanced trading tools offer automatic and partial matching with settlement typically in ten minutes.
Companies who join the Funderbeam Marketplace will need to provide updates to shareholders on relevant performance based indicators. Funderbeam makes contacting your investors easy, with report templates provided and a simple discussion forum to reply to questions.
Listing on Funderbeam is affordable, simple and easy for you and your investors.
Comparison to other platforms & exchanges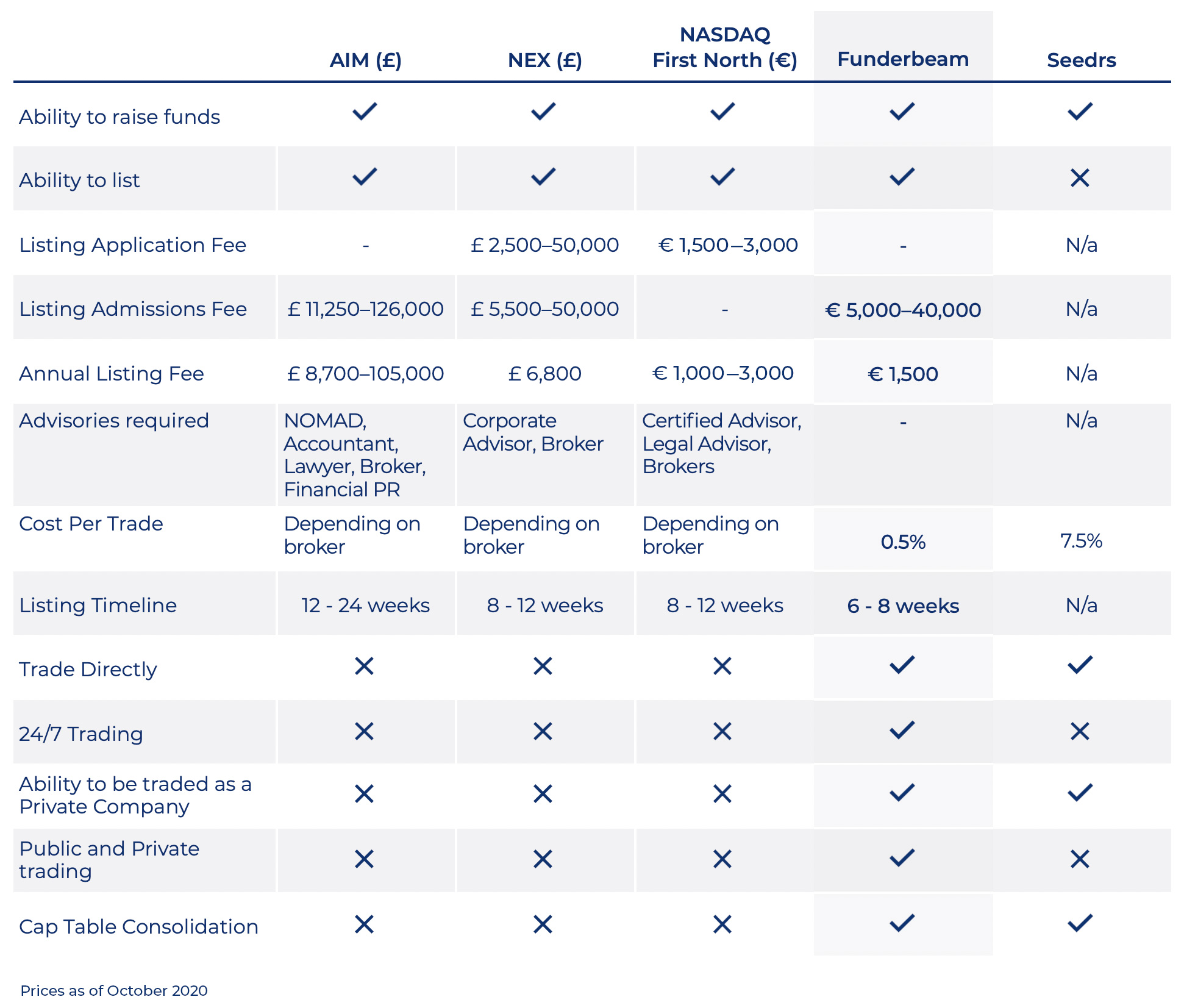 The Global Marketplace for Growth Companies
For more than five years Funderbeam has been on a mission to shake up traditional models of funding and trading, helping early-stage entrepreneurs to access capital whilst simultaneously offering liquidity to investors. This guide explains how Funderbeam can help companies provide access to liquidity for their shareholders.
In 2016, Funderbeam launched its platform to help high growth companies raise equity in public or private funding rounds. Once the rounds closed, investors were able to trade shares via "The Marketplace". The Funderbeam Marketplace offers direct trading, allowing buyers and sellers to interact with one another 24/7, 365 days of the year without the need for brokers or other third parties via a fully regulated trading platform.
Since inception, Funderbeam has successfully helped more than 40 companies raise funds in 8 different countries, with over €25 million raised. With offices in London, Singapore, Copenhagen, Zagreb and Tallinn, Funderbeam has more than 15,000 investors onboarded, from 130 different countries.
Funderbeam is now on a mission to be- come the global marketplace for private companies.
This article is designed to guide prospective companies through the process of listing on the Funderbeam Marketplace. It sets out key aspects of the admissions process, what is required at each stage, and summarises the requirements that companies will need to meet once the listing process completes.
How does it work?
Companies can make their investments tradable without needing to issue new shares or raise capital (unlike an initial public offering). To do this, shareholders transfer their shares into a nominee company managed by Funderbeam, which then becomes a tradable pool of investments that can be accessed by existing or new investors. Shareholders will maintain the same rights that they have today, but Funderbeam will act as a nominee and legally hold the shares on behalf of the investor. This means that the company's cap table will not change each time a trade is completed – the trading takes place within one holding entity.
Regulation
Funderbeam is authorised in the UK by the Financial Conduct Authority and in Singapore by the Monetary Authority of Singapore (the MAS). The Marketplace is approved by the MAS as a recognised market operator (RMO). The regulatory framework in Singapore enables the Marketplace to serve its growing international customer base and further aligns with our ambition to be the global marketplace for tradable private companies. To date, Funderbeam is the only marketplace that has secured licences needed to serve both Europe and Asia.
Benefits of listing on Funderbeam
Liquidity for shareholders: Shareholders and founders are able to sell their shares and realise some or all of their investment, freeing up capital that was otherwise locked in.
No large advisory fees: Listing can be an expensive process; not only do exchanges, clearing houses and brokerages charge large listing fees but it also requires extensive input from advisers, lawyers and accountants. Listing through Funderbeam does not require input from these individuals.
Access to a diverse investor network: Access to investors from 130 different countries, retail to institutional.
Trading: The Funderbeam Marketplace caters to trading (also private trading functionality), connecting buyers and sellers directly 24/7, 365 days of the year, settling in real time.
Incentivise employees: Encourage long term commitment and performance with employee share schemes that are now made tangible and have value.
Cap table consolidation: Simplified cap tables through the use of a nominee structure.
Simpler Corporate Governance: Keeping investors informed through straightforward in-built reporting and discussion tools.

Regulated marketplace: Shareholders are able to trade safely and securely via a regulated marketplace with published rules reviewed by the MAS.
No middle-men: Funderbeam and its proprietary technology manages the full value chain. There is no need to go via a broker or intermediary in order to complete a transaction.
The Listing Process
Listing on the Funderbeam marketplace is designed to be a straightforward process comprising of: basic due diligence; review by the Funderbeam Admission Committee; joining the Funderbeam platform; and the transfer of shares.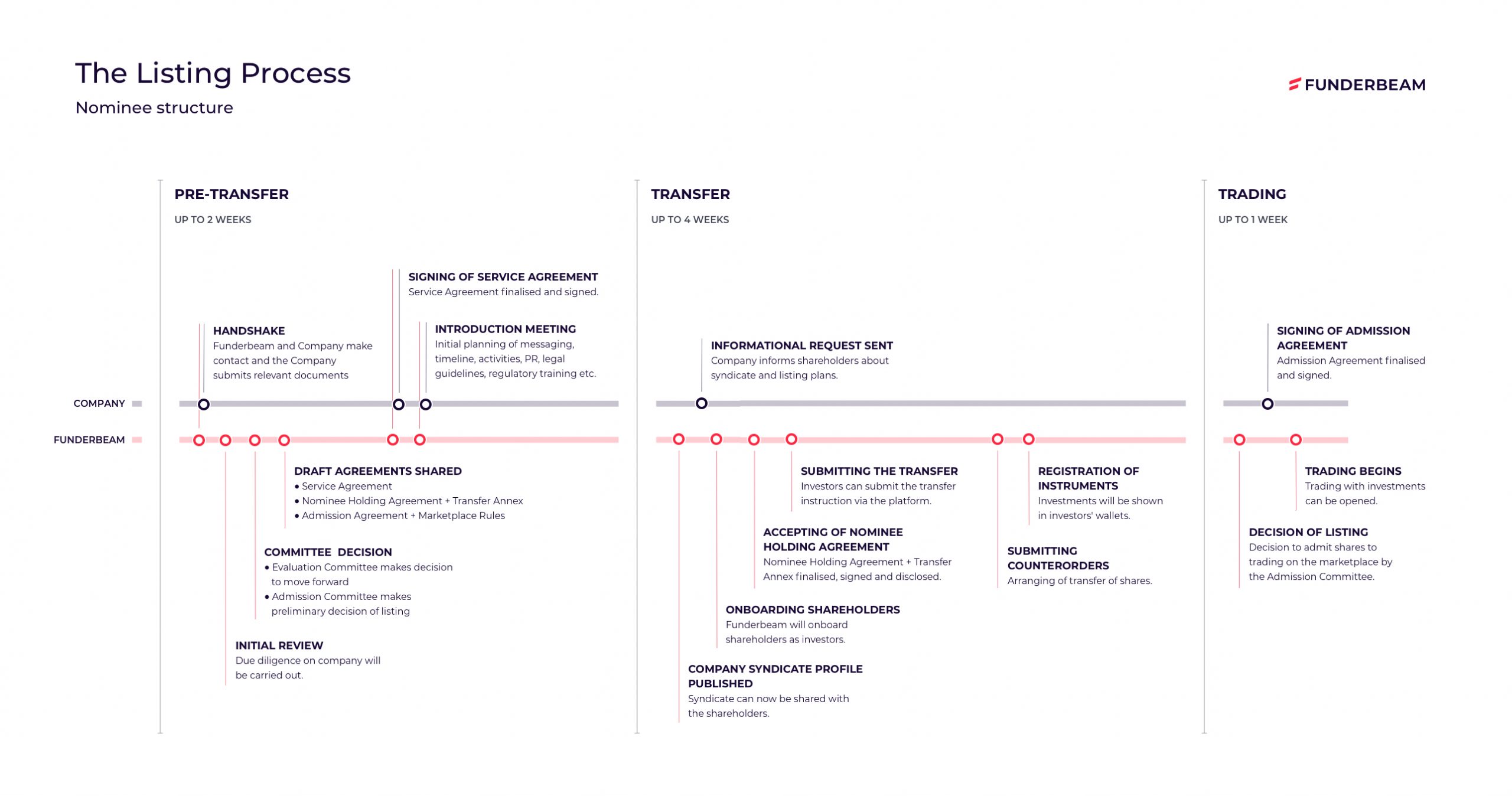 1. Due Diligence
Funderbeam carries out due diligence on the company and establishes whether it is possible to migrate shareholders onto the marketplace.
In addition to providing the relevant documentation the company will also need to establish an appropriate valuation at which to list at. This needs to be in line with previous financials and projections and will be reviewed by the evaluation and admissions committee.
2. Admissions and Service Agreement
Upon completion of the due diligence process, the company's application is reviewed by Funderbeam's Admissions Committee. This committee is composed of industry experts who have a wealth of experience within the financial sector alongside Funderbeam's Head of Trading and Head of Compliance. The committee confirms that the due diligence process has been completed and the required documentation provided, and that the necessary plans are in place to complete the listing.
Once the company has been successfully approved by the Admission Committee, the company and Funderbeam will sign a Service Agreement. At this point, Funderbeam provides the company with a dedicated Account Manager to assist with the onboarding process.
3. Joining the Platform
Once the Service Agreement is signed, the company can inform its shareholders about its plans to provide them with access to liquidity via the Funderbeam platform. For this to happen, Funderbeam creates a company-specific syndicate for shareholders to join. In order to list their shares, a shareholder needs to complete the following three steps:
1. Sign up to the Funderbeam platform
The shareholder submits their details by creating an account →
2. Become a verified Funderbeam user
Shareholders are required to submit proof of identification so that Funderbeam can conduct appropriate KYC/AML checks. Learn more →
3. Join the company syndicate
Shareholders will receive a link from the company notifying them to join the company's syndicate. They can then indicate how many shares they wish to transfer to the Funderbeam platform for trading.
At the same time, the company's platform profile is created. This provides relevant information about the company (e.g. a description of its business, the members of its senior management team) and its share capital to all verified investors on the platform who have access to the syndicate. Typically this would be the same as the information a company would provide on its own website, or which is filed publicly with Government authorities.
4. Transfer of shares and trading
Once shareholders have asked to join the company syndicate, the company is given the opportunity for a final review of the shareholders who wish to participate, and then confirms that the transfer process may proceed. The shares are transferred to Funderbeam and displayed in each investor's wallet – a centralised location containing their portfolio on the Funderbeam platform. Prior to trading, the company will then be asked to sign an Admission Agreement which admits the company to the Marketplace and also confirms the company's adherence to the Marketplace Rules. Once this has been signed, shareholders are free to begin trading via the Marketplace.
You can find out more about how trading on the Marketplace works.
Requirements after Listing
General obligations
To ensure the fair, orderly, and transparent functioning of the Marketplace, companies that are admitted are responsible for:
Disclosing regular updates on the results and operations of the company.
Disclosing other material information which relates, directly or indirectly to the company or relevant investment, and which would reasonably be considered likely to have a material impact on the price of those investments.
Information that is made available to the Marketplace must be fair, clear and not misleading, and must be made available in a timely manner to all Investors.
Reporting Requirements
A company must regularly disclose updated information on its key performance indicators (KPIs). Funderbeam and each company will separately agree on and disclose the KPIs which are relevant and material in measuring the performance and success of the company.
Companies must provide updates:
Monthly or quarterly reporting – this must be made available within 4 weeks of the end of the respective reporting period – this will be determined and set out in the Admissions Agreement
Financial Statements (annual report) – this must be made available by 4 months after the end of its financial year
Ad hoc disclosures – Companies must immediately report and publish any information that has or may have a material impact on the investment price
The Funderbeam Marketplace rules can be found via the following link: https://www.funderbeam.com/FBMSG/trading-rules