What is a balance statement?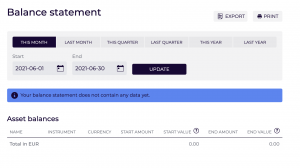 At the moment balance statement and transaction report are the all encompassing solutions for an investor base with 125+ countries  to review your trades. In case you made these trades through company, you should first access company account and then review the balance statement.
Instruments section and funds sections are presented separately in Balance Statement. Funds received from sales can be found in EUR section. You can export all the necessary data.