12 Questions with FitSphere CEO Karl Vihul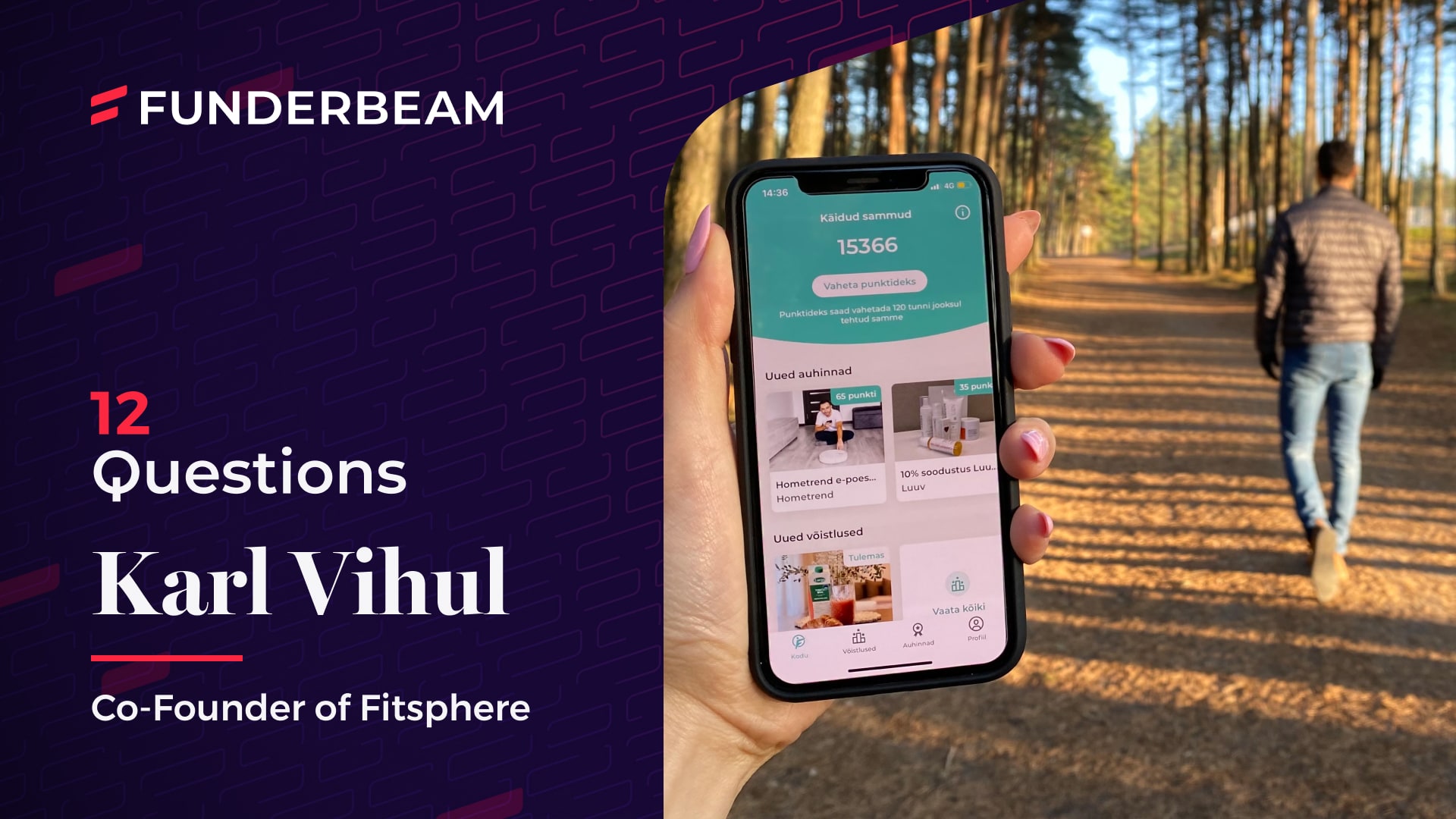 Karl Vihul is Co-Founder and CEO of FitSphere.
He met with Funderbeam's Jaanika Merilo to answer questions about the business goals for 2022, challenges ahead and what investors can expect from FitSphere in the future.
1. Tell us in three sentences what is FitSphere and what is the product?
FitSphere is a physical activity rewarding application. We've created an app that counts all your daily steps and gives you awesome rewards in exchange for these. In short, we motivate and reward.
2. Tell us how 2021 was for FitSphere and what were your key challenges?
The year 2021 was really challenging as there was so much going on at the same time. We launched our application, raised money, and built up our team.
It has been intense learning all the time to understand how every little thing works and how all these things match up together. I'd say that the biggest challenge has been to study our own product, find and execute learnings that help us to understand how to fit FitSphere application into the market.
3. What are your main, key goals in 2022?
Main goals for 2022 are to reach 150 000 app installs, 400 000 EUR revenue, and expansion in to our first new market. Our aim is for the team to grow nearly twice, to accomplish all of that.
4. What is the outlook for the health and fitness sector in the coming year?
The health sector is in the spotlight right now. COVID-19 pandemic has changed a lot in how the public and private sector look into health-related topics. It also goes for consumers who have changed their everyday routines and habits. It gives us a lot of opportunities and I'm certain that the FitSphere app helps very well with physical activity, especially in such times.
5. Are there any key trends in the health sector you think are important to FitSphere?
Health and fitness sector is growing and changing rapidly. There's going to be a lot more personalization in how one does its' sports and physical health-related activities. Technical devices are getting more and more powerful and smarter, offering solutions for activity planning, tracking, comparing and competing regardless of time and place.
6. Who are Fit Sphere's main shareholders and management, and are you expecting the new people to join in the near future?
There are two founders, Karl and Kristo who have marketing and sports background.
Mentors and lead investors are Ott Kiivikas, Paavo Siimann, Mihkel Välja and Janika Koch-Mäe. In the pre-seed round, we raised 234 000 EUR, mostly from friends, fools, and family and start-up investors. In regards to recruiting, it's a continuous, never-ending process in a start-up.
7. Tell us about any changes to your team and any plans for future hires or positions?
At this point, we have six team members working in the office every day. With mentors and lead investors, there's 11 of us. We are already recruiting three IT employees to create an in-house IT team. Next steps would be the hiring of marketing manager and country manager plus sales team for Sweden.
8. Can you profile or paint a picture of a typical customer of FitSphere?
Our average app user is a 31 years old female. She has tried counting steps before, free sample products and discounts are attractive for her.
9. What is your key message to customers and how do you get that information to them?
Our main message for our new potential users is actually a question:
"Have you ever gotten something for your steps?"
Most of our communication goes through digital channels as we're working with a digital product. We use social media but of course we're continuously looking for relevant environments where our message blends in.
10. What would you say are the biggest challenges ahead for FitSphere?
The next biggest challenge will be the expansion to new markets. Although the application is technically not difficult to serve to customers from other countries, as the content in the FitSphere app comes from our business partners, we have to build, teach, and manage a market-specific sales team that works from there.
11. And what area/geography/sector presents the biggest opportunity for FitSphere?
One of the main criteria for new markets are the target country's relevance towards population health care and the importance of physical activity. We see that it's easier to succeed in markets where private sector companies value people's wellbeing.
Both, people and companies, have an interest towards new technical possibilities which means that, of course, we are interested in regions where the population has used mobile applications. We've taken into account many more characteristics to make our selections regarding new markets, and when comparing it all, we've decided that Sweden will be our first new market. The next big markets could be the United Kingdom and the USA.
12. If you could give Investors just three words to describe the future of FitSphere, what would they be?
Virtuality, community, success.
To learn more about the FitSphere investment opportunity please click the button below.
In Funderbeam's tech-powered marketplace, anyone can buy and sell investments in ambitious companies, whilst founders can raise capital without borders.
Please click here to see companies currently raising funds with Funderbeam.
Companies currently trading on the Funderbeam Exchange – a secondary market for private companies.
Read Next