Ignite Q1 2022 – adopting, balancing, focusing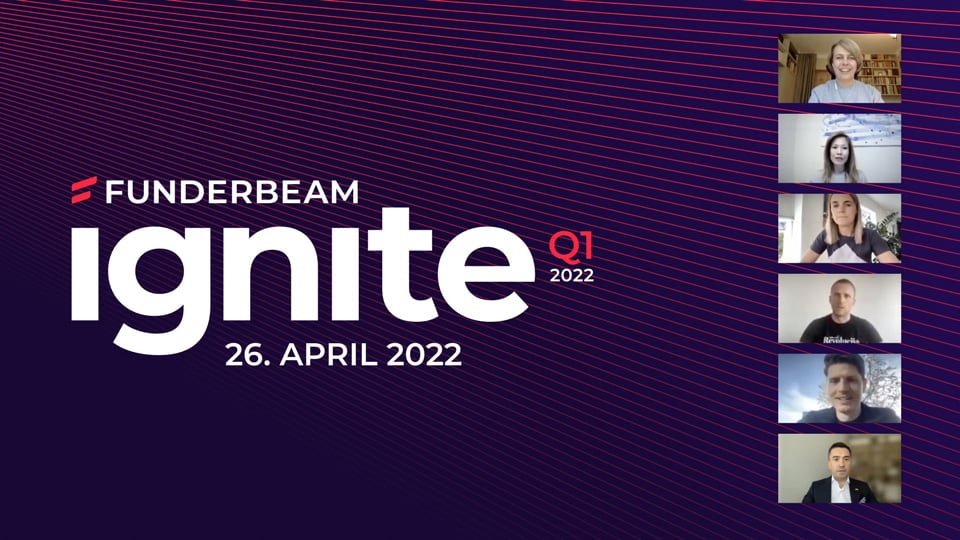 We were delighted to see so many old and new friends in our virtual quarterly Ignite event. Since February the world has been impacted by the war, and our hearts go out to Ukraine. Quoting Funderbeam CEO Kaidi Ruusalepp, "In these challenging times, our keywords have been adopting, balancing, and focusing."
Please find some key takeaways from our latest event:
Overall, markets are in a "waiting mode", some more stressed (public markets), some less (VC). Meanwhile, according to CB Insights, the VC industry investments increased 105% YoY to $144M in Q1. 
In 2021 and Q1 2022 more than 100 unicorns were globally born each quarter. Most of the unicorns are in the US (52%), Asia (29%), and Europe (13%).
According to CB Insights, the valuations of  VC deals are constantly increasing, growing to 2.6x YoY, compared to 1.8x in pre-pandemic years. The deal sizes per investor have though remained the same, indicating an increase in investor activity. Please see the presentation by Jacqueline Yee.
Last year, approximately 10% of EstBAN members' portfolio companies went through bankruptcy. President of EstBAN Lev Dolgatsjev sees it in correspondence with the industry average.
2021 was a good year for EstBAN and so far there is no sign of a decrease in investment activity or drop in valuations.
Funderbeam is focused on developing a new platform as a service (PaaS) product, supported strongly by demand from Estonian Business Angels Network, the most active angel network in Europe Danish Business Angels, and several other angel networks. Please see the presentation on PaaS and our company lifecycle by Kristjan Raude.
Funderbeam will also concentrate on supporting the whole company growth cycle from fundraising smaller rounds in PaaS or private rounds, then going public up to possible Funderbeam IPO.
We hope you liked our new format of Ignite and please book your virtual place for our next Ignite in July (register here)! We will continue developing our format and will ask several interesting guests for "investor insights", "angel lifehacks" etc.
Read Next