In the Hot Seat: Punch Club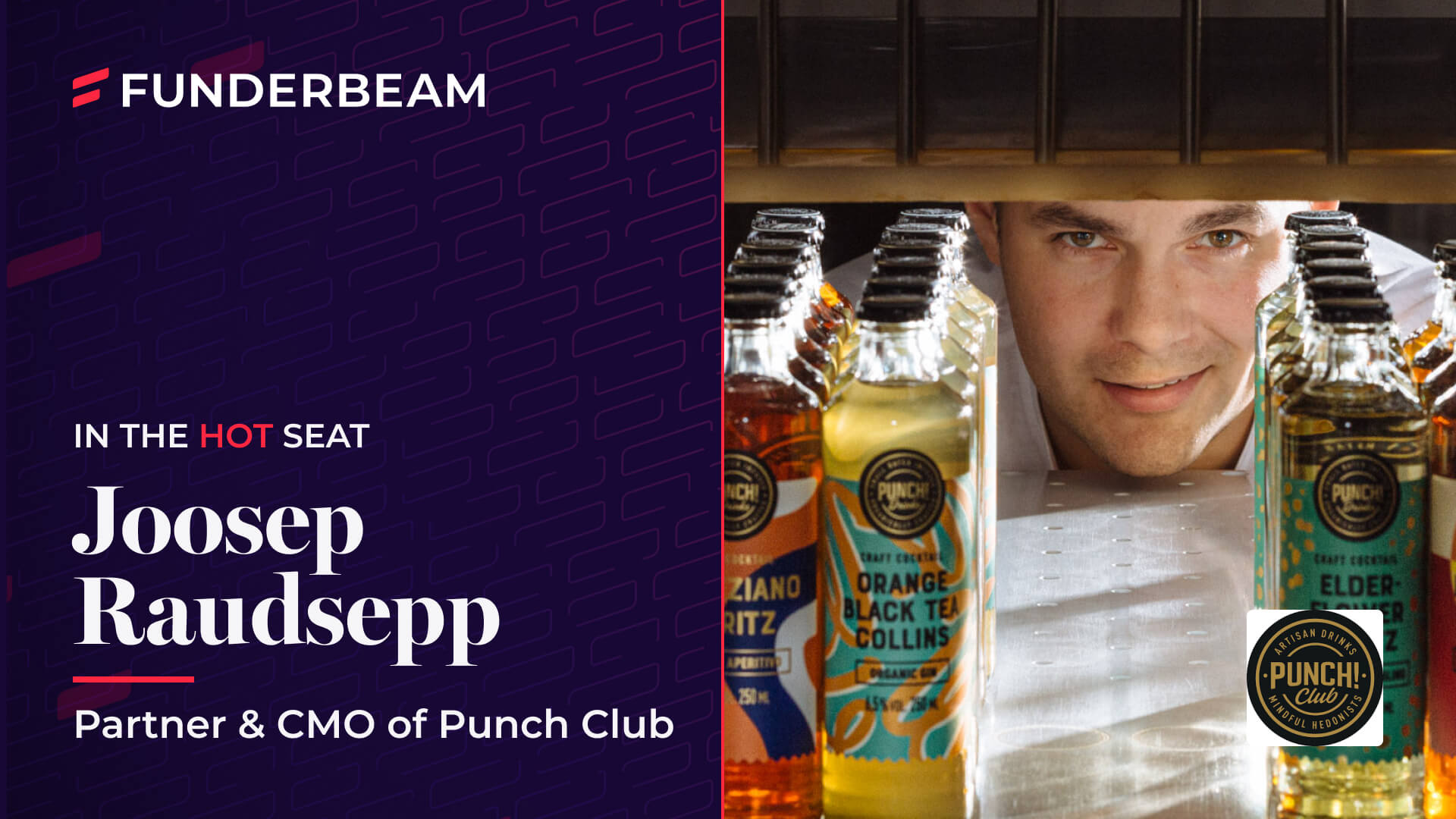 We asked Joosep Raudsepp, Partner and CMO of Punch Club, to take the Funderbeam Hot Seat to answer common questions requested by investors and to find out a bit more about the future of the business.
Tell us in a few sentences about your company and the product.
Punch Club® is an award-winning drink tech company specialised in making artisan cocktails and soft drinks in bottles and kegs that are organic, low in sugar and environmentally friendly. That being said, our distinctive focus is directed towards the hospitality sector, where we offer complete business model innovation in the form of our cocktail technology. This allows our partners to earn more revenue while simplifying their work.
How was 2021 for Punch Club®? What were your key challenges?
In a sense, 2021 was a breakthrough year. We worked hard to develop and perfect our products; the main challenge was then how to convert this hard work into overall success in customers and revenue.
I think we managed this challenge pretty well. Our new ready-to-serve cocktail series gained a lot of attention worldwide and won numerous prestigious international taste and design awards. We also proved our tap cocktails concept, which shifted us from being the typical beverage provider towards being a partner to our customers in the hospitality sector and providing them with the tools and solutions necessary to make their work easier.
Unfortunately, I don't think I can finish the answer without mentioning COVID, which definitely held us back a lot. The hospitality industry was one of the main sectors most painfully hit by all of the restrictions and, of course, this impacted us. Nevertheless, we managed to meet our expectations and grow twofold.
What are your main goals for Punch Club® in 2022?
Our main objective is always revenue. Since the beginning, we have doubled our revenue every year and we strive to maintain this trend. Our new 1500 m2 production facility is currently being built, so some of the challenges in the second half of 2022 will be related to the smooth relocation of our production.
Of course, there are many smaller objectives related to products, brand awareness and export, for example, but in the end, it all comes down to revenue.
What is the outlook for the hospitality sector in the coming year?
We very much hope that this year we can finally return to "normal" and put the COVID pandemic behind us. We expect a busy year full of events, festivals and long nights with tasty drinks 🙂
Are there any key trends in the hospitality sector you think are important to Punch Club®?
We see multiple trends happening at the same time. There is an ongoing wellness trend, meaning that people are increasingly conscious of what they eat and drink. This reflects their desire for quality ingredients, preferences towards organic components, less sugar, etc.
We will also see the sustainability factor becoming increasingly important. People and businesses do care about the green credentials of the products they consume.
Finally, as in almost every industry, the hospitality sector is searching for new ways to simplify and automate its processes and workflow.
All of our solutions are designed based on these trends, so this is something we very much anticipate.
Who are the main shareholders and management of the company and are there any plans for future hires or positions?

Although we have some angel investors and investors from Funderbeam, the company is still managed by its principal shareholders. Currently, we are a team of 10 people who are split equally between production and the so-called 'office'.
We are actively looking for like-minded people to join our production team, including the new production manager. Since our demand has exploded, our top priority is strengthening our production team.
Can you profile or paint a picture of a typical customer of Punch Club®?
Here, it is essential to distinguish between B2C and B2B. In B2C, our customers are mostly outgoing urban people who appreciate quality ingredients, care deeply about what they eat or drink and are eager to try new flavours and experiences.
In B2B, our core customers are primarily clubs, bars, restaurants and mass event producers who are looking for innovative methods to earn more revenue and be more efficient in the way they serve their drinks without compromising on quality.
What is your key message to customers and how do you convey that information?
Our value proposal to our customers in the hospitality sector is perhaps the key aspect that distinguishes us from other beverage brands.
We offer a solution, not just a product.
We provide our partners with a 'tool' that enables them to increase their revenues and profits while simplifying work. Therefore, they're eager to implement our solutions quickly and at maximum capacity.
We are also supplying for existing demand, not creating new
Supplying the most popular cocktails so that bar or customer demand does not need to change. Bars already sell Mojitos, Moscow Mules, Whiskey Sours, etc. – now just five times faster.
Getting the information to our customers is mostly a matter of presentation and sampling. In key markets, we also have showrooms, which are very helpful in getting our message across to industry people.
What would you say the biggest challenges are for Punch Club® going forwards?
As we expect further growth, our team also needs to grow in size, so finding the right people for the right places is always a challenge.
In the following years, we see that most of our growth will be propelled by foreign markets, so it is essential to develop a good balance of sales and marketing that would fit the local context.
What area/geography/sector presents the biggest opportunity for Punch Club®?
Our focus is currently on Central and West Europe, especially German-speaking countries. We already have a showroom in Austria and are making preparations to open one in Barcelona. Our retail numbers in Austria are exceeding the numbers back home, and the demand from the local HoReCa sector also shows great potential.
Our products are also available in our neighbouring countries, e.g. Finland, Latvia, Sweden, Denmark, and as the high season is approaching we expect growth from these markets.
If you could leave investors with just three words to describe the future of Punch Club®, what would they be?
Disruption – introduce a new value proposition.
Evolution – innovate rapidly along a new trajectory.
Reimagination – re-think the whole industry.
How could Funderbeam investors help you?
I know that we have numerous investors who consider themselves brand ambassadors, and I think this is the perfect attitude.
If you genuinely believe in us, then your word of mouth is one of the strongest forms of marketing. Spread the word, introduce our products to… well, whomever you see fit. We have a wide array of products so everyone can find their favourite.
Also, when going out to your favourite bar or restaurant, do you stay loyal to your investment or switch sides and support someone else's investment? 🙂
If you don't see our products on the menu, do you still ask for our products?
Sometimes even those small actions might create conditions that are beneficial for our business. And by our business, I mean all of us – our colleagues here at Punch Club, our shareholders in Funderbeam and our angels outside the syndicate. At the end of the day, we all want our investments to grow.
Read Next