In the Hot Seat – Xolo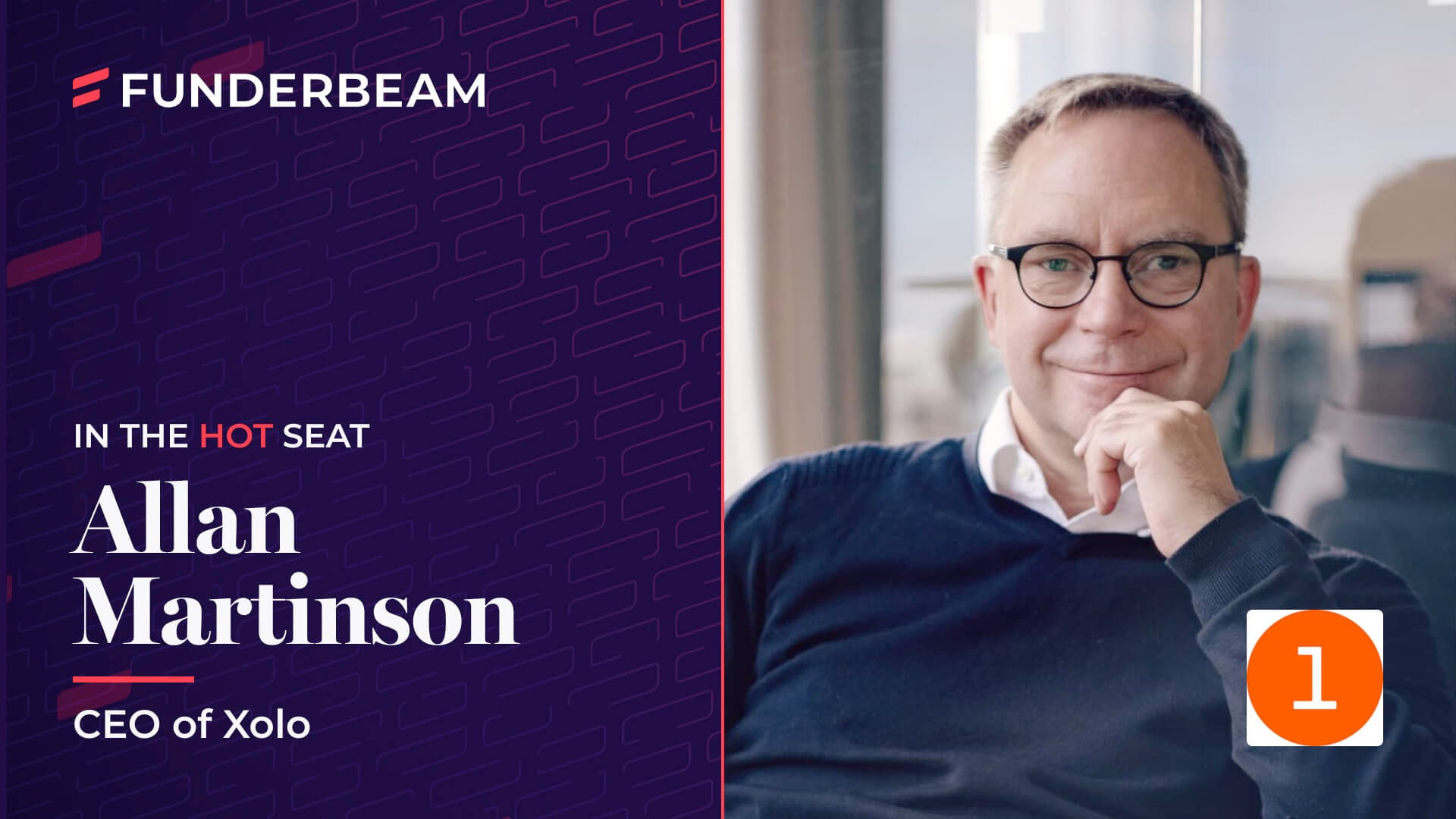 Xolo is the platform for solopreneurs: bringing together the functionality and tools needed to run a business remotely. We asked Allan Martinson, CEO of Xolo, to take the Funderbeam Hot Seat to answer common questions asked by investors and find out a bit more about the future of the business.
Tell us in a few sentences about your company and the product?
Xolo is one of the largest platforms for solopreneurs, freelancers and independent contractors in Europe. We provide them with a software platform to register their business, run it and even liquidate it. The service includes full accounting and tax compliance that our specialists offer combined with algorithms and machine learning. Our goal is to make solopreneurship a magical experience.
How was 2021 for Xolo? What were your key challenges?
Xolo's 2021 was fantastic. We continued to execute our strategy to grow our service footprint by launching localised services in several European countries. Our Spanish service was launched in summer 2021, followed by our Italian product in February 2022 and Xolo Estonia in May 2022. Our two older products – Xolo Go, which we launched in 2019, and Estonian e-Residency-based product Xolo Leap (launched in 2015) – continued to grow. Our revenue grew by 53% and gross profit by 78% in 2021.
What are your key goals for Xolo in 2022?
We will continue to execute our strategy of launching new localised products in key European markets. We have made the first move by launching Xolo Italy and Estonia, which has been welcomed with open arms. Future markets will be announced in Q3!
That does not mean that our global products will receive any less attention. Digital nomads and borderless businesses are on the rise, and there are plenty of opportunities to support this movement – from product development to the development of new services.
What is the outlook for the freelance and solopreneurship sector in the coming year?
Looking at the current situation in the world, it is clear that we are living in an era of rapid change. Traditional contract work is no longer seen as a safe way to go through life and settle down when retirement age comes. While freelancing has been seen as a desirable lifestyle for the past decades, it is now the only and best option for many people. It is the new normal, and we must adjust accordingly.
Are there any key trends in the freelance and solopreneurship sector essential to Xolo?
The pandemic has accelerated the movement of people from traditional employment to solo careers. In the US, this is called the 'Great Resignation'. In Europe, we are seeing a similar trend. After working remotely for two years, many professionals are rethinking their careers by asking whether they could work not only remotely but also independently.
This aligns with Xolo's vision of the world, in which everyone can be a solopreneur and be their own boss.
Another notable trend is that solopreneurs lose up to two full work days every month dealing with the administrative side of running their business. Xolo's goal is to build the solutions that allow solopreneurs to be more efficient. By 'scaling the solo revolution', we can help make the path to independent success significantly easier.
Who are the principal shareholders and management of the company and are there any plans for future hires or positions?
Xolo is owned by its founders and management (slightly over 50%) and pre-seed, seed and Series A investors (around 30 in total). Our lead investor is Karma Ventures from Estonia with Vendep Capital (Finland), Metaplanet Holdings (Estonia), Mistletoe (Singapore), id4 (France) and Almaz Capital (CEE), all having invested substantial sums.
The Company's CEO is Allan Martinson, long-term founder, executive and investor. Our CPO Mikko Teerenhovi and CMO Elina Räsänen came to Xolo by way of Holvi, a Finnish-headquartered fintech for freelancers. Our COO Tarmo Osman is a former telecoms executive.
Can you profile or paint a picture of a typical customer of Xolo?
Our typical customer is a male in his thirties, a tech professional running an independent career. Our customers' average annual income is around €100,000. That being said, Xolo does not have an 'average' customer. All of our solopreneurs have found their unique micro-niches and many of them are leading specialists in their fields on a global scale.
What unites them is their desire to be independent and autonomous – not having a boss and not being a boss.
What is your key message to customers and how do you convey that information to them?
Our key message to customers is that it's currently way too inefficient to be a solopreneur. As previously stated, solos lose an average of two working days every month to the administrative side of running their business. Our solutions are built so that freelancers, sole traders, nomadic professionals, etc. can affordably scale up their admin, so it only takes a few minutes per day. That way, they can focus on their clients, work and grow their business.
We get this information to them by always being benefit-focused in our messaging and taking every opportunity to highlight the inequalities and inefficiencies that come with being a solopreneur. Most notably, we recently launched a podcast called 'The Future is Freelance'. The first episode highlighted these inequalities and how Xolo offers a solution to this problem.
What would you say the biggest challenges are for Xolo going forwards?
We are building the digital infrastructure for the solo economy to be as efficient as its counterparts in the enterprise sector. We need to develop well-tuned business products with local compliance in many countries. This is not a trivial exercise, but once done it creates significant entry barriers for the competition.
What area/geography/sector presents the most significant opportunity?
We see our most significant potential in local products, as this puts us into a unique position where we have competence for taxation and compliance in various countries. It means we can help more customers, offer better services and have the power to impact the future of freelancing.
If you could leave investors with just three words to describe the future of Xolo, what would they be?
Xolo: THE platform for solopreneurs
How can Funderbeam investors help you?
Over half of Funderbeam investors run their own companies or solo businesses, so they are precisely in Xolo's crosshairs. Your input and feedback are invaluable, and we'd be honoured to have you as our customer, too!
Read Next