How to add funds to your Funderbeam Wallet through bank transfer?
You can add funds to your Funderbeam wallet by making a bank transfer, using a card payment, or sending a Wise payment by clicking the respective button on the Add funds panel.
Bank transfer
Click the "Bank Transfer" button on the Add funds panel.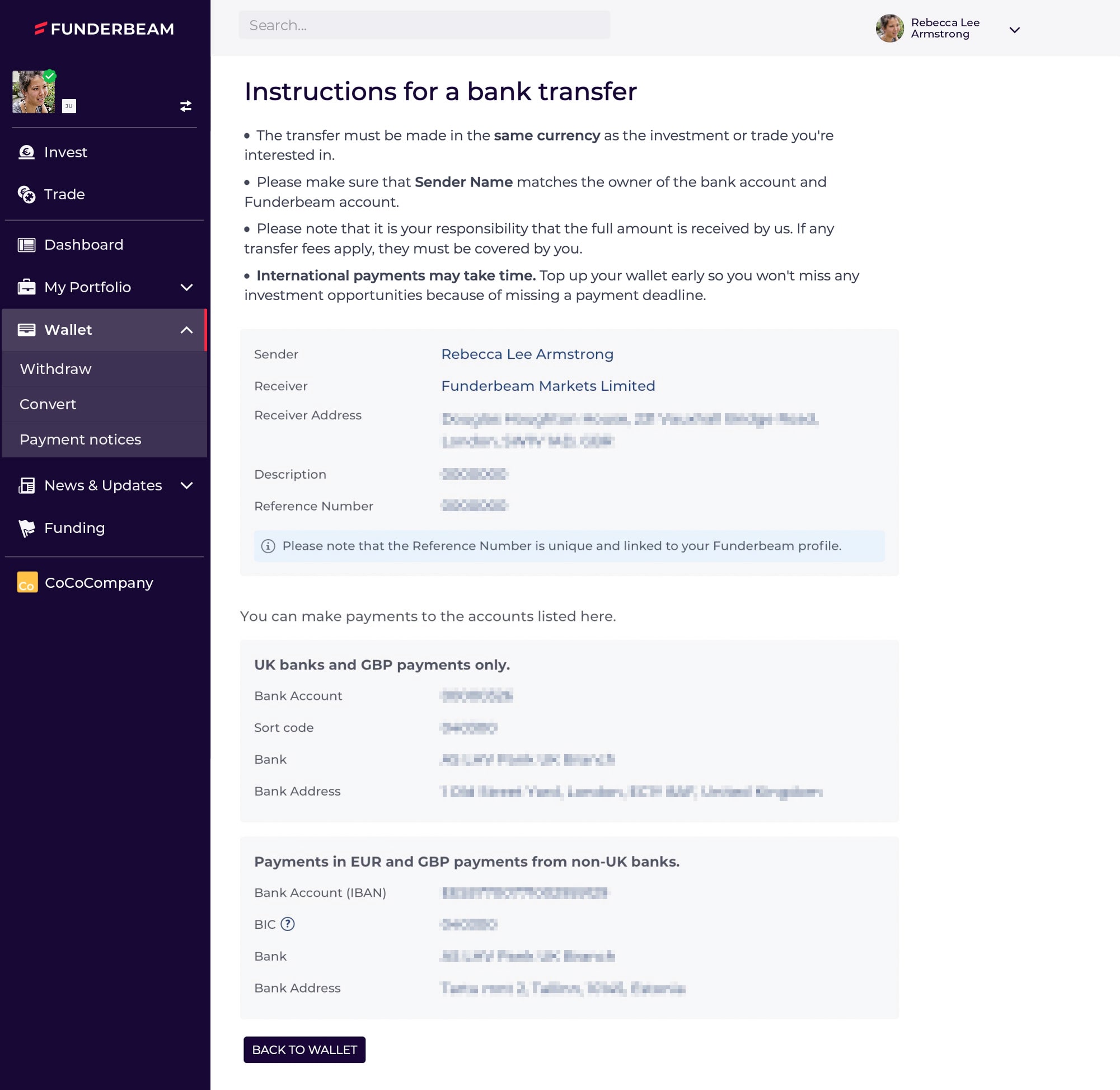 On the following screen, you will be provided with all the details needed in order to make a bank payment.
Please note:
The transfer must be made in the same currency as the investment or trade you're interested in.
Please make sure that Sender Name matches the owner of the bank account.
Please make sure to include all service fees that may apply.
Domestic payments within Estonia are expected to be transferred every 30 minutes. Depending on the transfer time of your bank to ours, this time might vary.
International payments may take time. Top up your wallet early so you won't miss any investment opportunities because of missing a payment deadline.
Important: make sure all details are exactly as requested before making a transfer from your bank account.
There is no charge from Funderbeam. However, if based outside of the EU, your bank may charge a fee.
Will my payment reach the Funderbeam account without a Reference number?
Yes, we are able to credit the funds without the reference number, however, it takes a longer time to process it.
How do I change my bank account?
To change your account, please make a 1€ minimum bank transfer from the new account.
Note that you can transfer more than 1€ and use the funds for investing or trading or withdraw them any time once the account has been successfully connected or changed.
If there are any questions, please feel free to send us an email markets@funderbeam.com