funderbeam
January 25, 2022
Funderbeam – 2021 Results and Review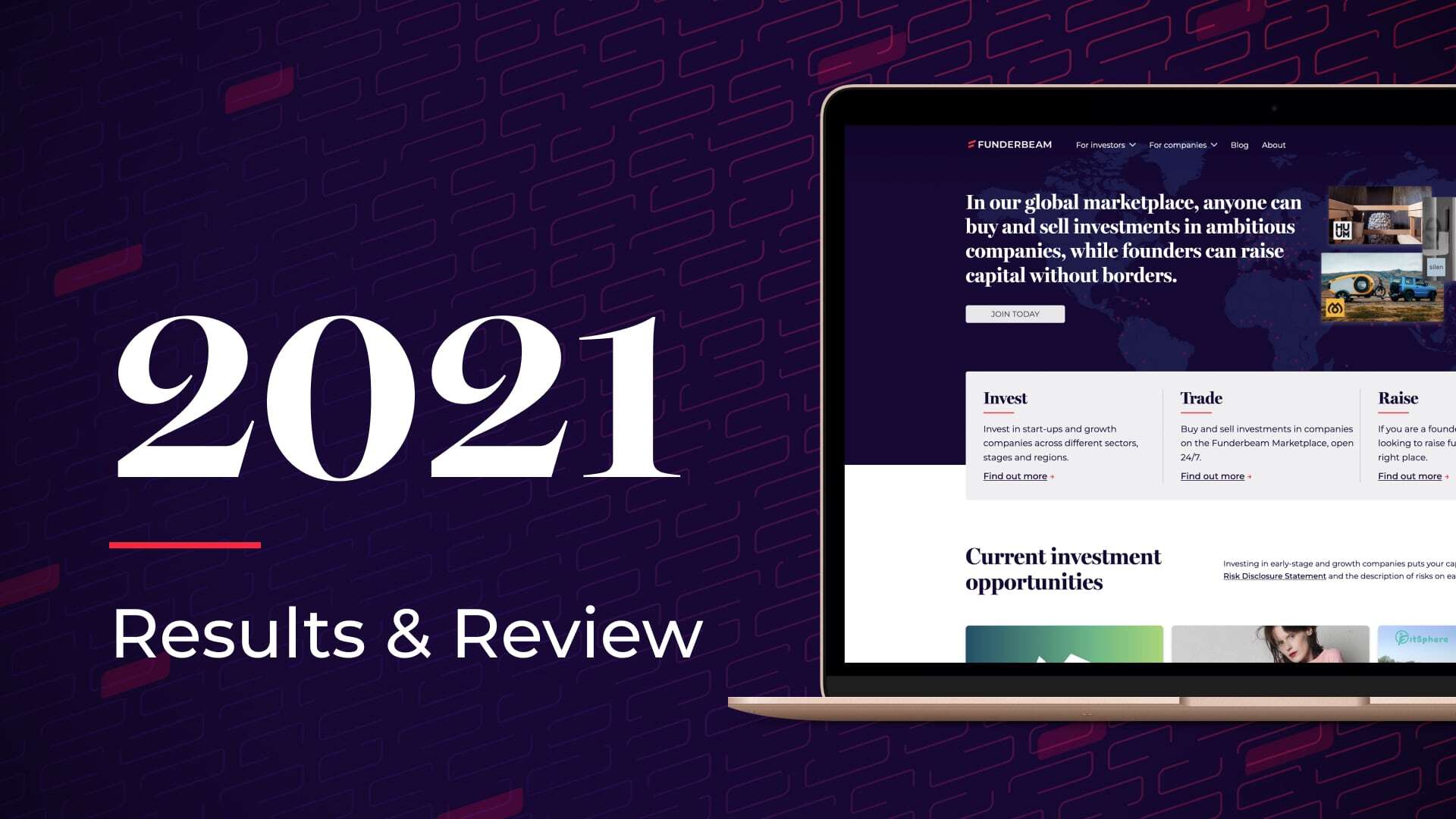 2021 was a growth year for Funderbeam. We look back on Q4 and the year as a whole.
To wrap up in brief – what a year!
2021 was a breakout year for Funderbeam, with substantial growth and improvements across all areas of the business. Starting the year with strong momentum in both fundraising and trading, the company continued to grow and achieve its best monthly results throughout the year.
Total revenue of €1.125m (2020: €0.482m) up 133%
Total verified investors 24.0k (2020: 17.7k) up 35%
Annual trading volume €15.9m (2020: €3.9m) up 307%
Total fundraises: 29 for €21.4m (2020: 22 for €7.4m) up 32% and 189%
Total EOY pipeline: €15.4m (2020: €11.9m) up 29%
Total Assets Under Custody €83.9m (2020: €58.9m) up 42%
After closing the successful capital raise in Q1, Funderbeam was able to continue focusing on long term goals to promote sustainable growth. We were able to expand our team with incredibly talented and experienced individuals. This helped Funderbeam to concentrate on upgrading our existing products both with new features and improvements but also introducing new products and client segments – private trading for large tech companies and their employee shares if to mention just one such addition.
The new improvements and platform features put us in front of some larger partners we have had ambitions of working with. New additions included instant settlement trading, private products, Index 2.0, as well as the recently announced Brokerlink and numerous other improvements and enhancements such as two factor authentication and improved automatic bank account connections. While these developments have considerable long-term potential and many are not visible to end clients, we are already seeing the benefits in bringing in new markets and onboarding larger partners.
We are very grateful to all our users for the feedback throughout the year! Investor and Founders surveys will be part of our routines and do keep asking and pushing!
The following report covers a combination of Q4 and full year 2021 results as well as recapping on some of the major themes and achievements for the year 2021.
Funderbeam's growth in numbers
In 2021 we completed a total of 29 fundraises for a total of €21.4m funds raised. This was a considerable improvement on the previous years with more funds raised than both 2019 and 2020 combined. These funding rounds included a healthy mix of new companies and companies already on the marketplace completing additional raises.
Companies raising funds were primarily from our core Estonian and Scandinavian markets, however we were also able to successfully raise funds for companies based in several other countries including the UK, Croatia, Singapore, and Austria.
In 2021, we admitted 9 Secondaries Listings to our Marketplace. This is a notable achievement for what is essentially a new service Funderbeam is now offering. This brings our total tradable companies to 61 with several additional companies currently finalising paperwork to allow trading.
As at the end of Q4 2021 our pipeline for secondaries listings amounts to €14m across 6 countries. This is in addition to the €15m of fundraising pipeline.
Primary Market
As we expected, in Q4 we had a very strong quarter with a total of 9 separate fundraises closing from across Estonia, Denmark and Croatia. In total these rounds included over €4.5m of funds raised. Although it was also sad to see some of the offers unsuccessful in reaching funding targets, we still see it as a very successful quarter with opportunities to improve performance in future. We also took a lesson for the next deep tech companies to present information about their technology in a more retail investor readable way.
Besides public offers, we launched and closed successfully the first deal from cooperation with the Estonian Business Angels Network (EstBAN). The first pilot was delivered successfully and private fundraising product for new (angel) investor networks are ready to scale. This is also the basis of the "Fundraising as a Service" that will enable Funderbeam to serve private investor networks that otherwise would be out of our client segment.
In Q4 we were pleased to execute the first successful exit transaction for Funderbeam and investors. It was also the first time that Funderbeam itself received a carry payment, bringing us a new source of revenue. The process of the transaction was closed smoothly and professionally by all parties.
In Q1 2022 we expect to launch new offers from Finland and expand our presence in the Lithuanian market. Companies from these markets are signing service agreements with us and the marketing & PR team has created plans to support launches of new markets.
Throughout Q4 we were also working to improve the processes around fundraising applications and backend flow. We expect these improvements to have an impact on our clients in Q1 2022 by shortening the time spent for preparations before the launches and simplifying the process for our clients. These improvements will not only result in a better experience for our clients but also allow Funderbeam to deliver a more cost-effective and resource-efficient service and utilise our tech in a much more scalable way.
Secondary Market
In total Q4 had 6% more trades compared to Q3 2021, with a small increase in trade volume to €3.1m in total. There are currently 61 companies trading across 28 separate industry segments.
Q4 2021 also marked a significant milestone for the Secondary Market with the 100,000th settled trade since the start of trading. In total 73,696 trades took place in 2021 to bring us to 115,347 total trades since the launch of the marketplace. The total trades in 2021 are 3.5x that of 2020, this brings us to a total of €15.9m in value traded. In 2021, the average trading value on the Secondary Market was €215.72 per trade, an increase of 4.1% on the lifetime average.
Throughout increased trading activities we not only maintained but improved on our trade surveillance protocols to handle volumes as we grow.
In Q4 2021 we surveyed companies listed on the Secondary Market regarding their reporting. We combined feedback from the companies with the feedback from the investors survey mentioned in Product chapter, asked direct feedback from founders, and commenced a review to help companies improve on the quality and timeliness of their reporting. The aim is to help elevate awareness with the companies to the importance of relevant, objective, and up-to-date information towards engendering more positive investor sentiment and active engagement in trading the companies' shares.
Product
2021 brought a lot of fresh blood into product and development teams – growing 50%. The latest hire, Halyna Oros joined the team as the Lead Data Analyst at the end of December. Her experience and skills will enable us to strengthen data-driven (product) management and growth.
December closed with a bang by receiving the full list of feedback to and about the Product. The large amount of investor feedback from the discussion board and investor survey has given us a unique basis to plan and prioritise the most sought-after changes on the platform. Many of these are already being implemented and prioritised in the beginning of Q1 2022.
New fundraising flow was launched in the beginning of December – significantly speeding and smoothing up the fundraising process for founders. This was the most requested change from the founder survey (that was completed in November). The exact impact of the changes will have measured results early 2022. We also gave more power and features to company representatives to edit company profiles, team members and insider lists. This will improve and simplify the fundraising process as well easing the life of all the other listed companies.
Some of the most notable products & features launched in 2021:
Private secondaries – piloting with Helmes in beginning of 2021, giving the long-sought liquidity solution for employee shares
Private fundraising and cooperation with EstBAN to leverage it
Invitation system for the private products
Funderbeam market index 2.0
Brokerlink – development is complete, currently choosing a pilot partner
Improved investor signup and onboarding
Full revamp of the fundraising flow
Discussion section redesign
Split functionality
New security features
Funderbeam platform and systems uptime in 2021 was an impressive 99.96%!
Marketing & PR
2021 was a year of change for Funderbeam's PR & Marketing team. Kristjan Raude joined as Head of Growth in September, Oli Harris as Global Head of Marketing in November and in late December we onboarded Jaanika Merilo as Head of PR & Communications.
Funderbeam.com
We saw healthy growth on the platform, with increases across all core metrics including overall web sessions doubling to over 2m from circa 950k in the previous year.
Looking at website user acquisition, we grew direct traffic by 23% and Organic search traffic by 16%. Referral traffic increased by 45%.
We had visitors from 212 countries, notably, traffic from Estonia increased by 100% and Croatia by 66% as compared to 2020.
User Base
We ended 2021 with ~79k total users and ~24k Verified investors on the platform, this is an increase of 17% and 34% for the full year.
Initiatives
Q4 saw us pilot our first community event Funderbeam Ignite, which provided further valuable feedback from both investors and founders. We also commissioned 2 surveys to both user groups and received over 400 individual pieces of feedback which we began analysis of at the end of Q4 and have already implemented several recommendations that came as a result. The end of December the first Founders Roundtable was held. This kicked off the regular roundtables between marketplace founders and Funderbeam, the next to be held already in early February.
We undertook an extensive review of the website, both in terms of UX and SEO, and began conducting wholesale changes in tandem with our product team.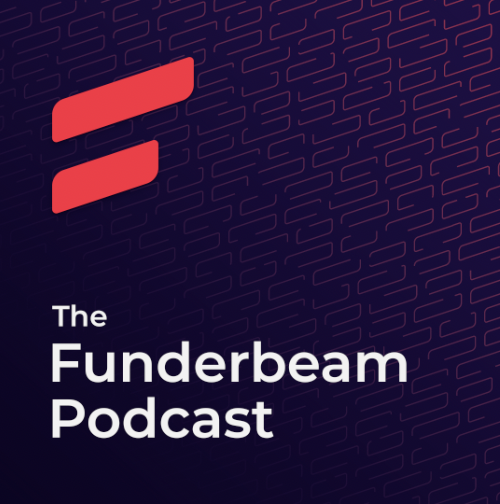 The Funderbeam Podcast launched in December and we created a plan to deliver content on a daily basis, both via our blog and through social media to tackle the problem of investor & founder education. Our social media channels grew organically, and we will be utilising them more in the year ahead to deliver news and content to our followers.
Our goals for 2022 broadly revolve around these key areas
Increase the number of verified users (investors) in all territories we are working in.
Provide more information to users regarding companies trading on the marketplace and those raising funds.
Educate the marketplace users
Improve awareness of the Funderbeam brand and the platform's USP
Financial
Funderbeam achieved strong Q4 results to top off what has been a year of growth. Despite the usual slowdown for end of year holidays we achieved revenues of €267k, this is just slightly below Q3 results. This brings full year revenue to €1,124.9k. Compared to the €482k in prior year revenues, this is a notable 2.3x improvement.
Looking more in depth at the figures we can see considerable improvement across various areas of the business as Funderbeam continues to diversify its revenues. The most significant revenue stream was fundraising revenue which generated €933k in full year revenue. Fundraising will continue to be the primary source of 2022 revenues and was the most significant driver of revenue growth in real terms with just over 2x year on year growth.
Trading revenues have grown considerably from prior year with almost €79k in full year revenue. This compares to under €17k in the prior year representing 4.7x growth. As a passive revenue stream this is very important to Funderbeam's long term profitability, it also acts as a good measure of activity on The Marketplace and is a crucial element when discussing funding of Funderbeam with VC's and other investors.

Revenue from secondaries was also notable with a total of over €47k, while 'other revenue' including corporate and annual fees and successful exits generated €62k. In total Funderbeam generated €188k in non-fundraising revenue compared to €25k in the prior year.
Coming into the new year Funderbeam is poised to continue its revenue growth. In H2 of this year we have been investing heavily into both new key hires and development of The Marketplace. This includes both improvements and streamlining of current services as well as new features and services such as the BrokerLink, private fundraising and private secondaries. The short-term effect of this investment has been increases in expenditure; however, this is expected to be offset by the revenue growth.
Currently we have over €1.5m of cash on hand with further fundraising to be completed in Q1 2022. This is almost 2x the cash we started the year with and combined with the upcoming raise will put us in a stable position to continue the pursuit of growth.
The funding round is planned to be modest in size and in combination with our projected revenue would enable Funderbeam to be profitable. The additional capital will allow us also to pursue short term growth of revenues and the marketplace, including scaling secondary services in some tech cities without sacrificing long term objectives. Further updates will be announced on the marketplace.
"2022 plans include offering new investment opportunities in current markets and expansion to new synergy-creating markets. But besides our regular route we are preparing the proper launch of our Private Product – fundraising and secondaries as a service.

We know that companies are interested in offering their employees and shareholders the opportunity of private trading, like Helmes did. And both companies and investors would like to use our tech and legal to help them with their fundraise flow, but do it in private and by invitation only, like EstBAN does.

That would not create any additional restrictions to the current marketplace as some may fear but would offer to onboard companies and investors that would not be Funderbeam clients otherwise.""

Kaidi Ruusalepp, CEO & Founder of Funderbeam
In Funderbeam's tech-powered marketplace, anyone can buy and sell investments in ambitious companies, whilst founders can raise capital without borders.
Please click here to see companies currently raising funds with Funderbeam.
Companies currently trading on the Funderbeam Marketplace – a secondary market for private companies.
Looking to raise funds for your business? Let us help you.
* Capital at Risk
Read Next