funderbeam
November 30, 2021
Funderbeam Ignite – Piloting our new community event
On November 24th 2021, we ran our first Funderbeam Ignite, an online event designed to bring the Funderbeam community closer together.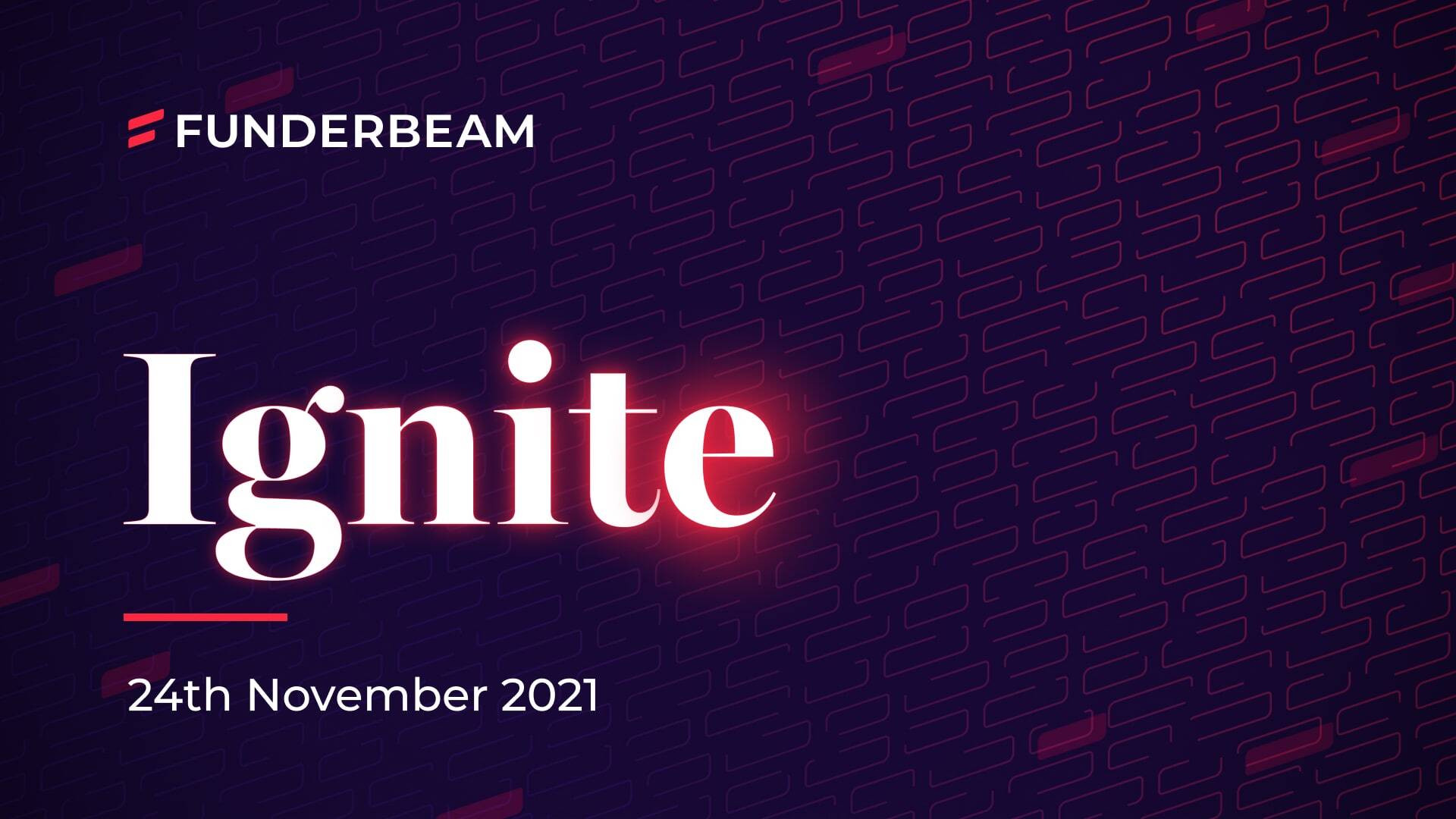 You can watch the entire Ignite event on the following video, and there is a written summary of each presentation beneath that.
Funderbeam Ignite Video Timings
0.00 – Introduction from Oli Harris, Global Head of Marketing
4.44 – "We're here because of Founders" – A Welcome from Kaidi Ruusalepp, Founder and CEO
7.53 – "Growth Opportunites – Kristjan Raude, Chief Growth Officer
18.32 – "The Funderbeam Exchange" – Jacqueline Rachelle Yee, CEO of Funderbeam Exchange
23.55 – "Product plans you don't want to miss" – Katri Kubar, Chief Produce Officer
29.15 – "Growth in the Baltics" – Ardo Mardisoo, Head of Baltics & Finland
32.08 – "Denmark: The Land of Opportunity" – Christian Gronlund, Head of Denmark/Scandinavia
35.29 – "Why Croatia & South-East Europe" – Ognjan Despot, Head of SEE Region
38.30 – "How I made my first million on Funderbeam" – Q&A with Madis Müür
45:00 – "Funderbeam Awards" – Acknowledging our most active & successful investors and companies
47:50 "Elevator pitches from Companies raising on the platform (November 2021) – Miret, Biig Technologies, DoLand & Ruex.
55:10 Parting words from Kaidi
A summary of the Funderbeam Ignite Pilot
Welcome – Kaidi Ruusalepp
Funderbeam was born because of founders. Founders have a dream which they translate into a business plan which then will be translated into an investable company.
Founders need early investors to support their dream and take the risk early. They need employees to build the business, late stage investors to fund the growth and then exit provider.
It's all one ecosystem which Funderbeam has built as one tech powered marketplace. It is indeed like a full vertical with two very different sides – early investments and stock markets. But in the end, every participant in the founder journey is there to join and to exit.
Can we do both? We believe we can.
Growth – Kristjan Raude
This year has seen strong growth of 3.2x in funds raised. Our tech-powered platform has helped founders to raise and investors to invest €17m so far in 2021. Over the same period, the Funderbeam marketplace delivered 6.8x growth in trades settled, reaching close to a trading volume of €13m. As we continue to grow, this number is probably the most exciting to follow.
Important fact: this year we have six companies with a trading volume of more than €0.5m – Silen, Ampler Bikes, Change, HUUM, Funderbeam itself and Bikeep. Congrats to them!
We have seen a modest 1.4x growth in verified investors. As of today, we have 76,000 users and more than 23,000 verified investors, but our goal is to grow rapidly by onboarding new investors from the countries where we are active.
Our revenue has grown by 2.6x in the first 9 months to c.€850k. We are very close to surpassing the magical seven figure annual revenue benchmark.
Funderbeam will start focusing on a new KPI – TAUC (Total Assets Under Custody). This includes the total value of investors' assets on the platform plus free funds in wallets. We also see this as the most important KPI in our business, so we've decided to name it our North Star.
Everything that we do is to increase its value – be it fundraising, private or public listings, secondaries, trading, PaaS, or of course the further success of companies trading on the platform. As a benchmark, the current TAUC is €85m, which has grown 2.4x this year.
Exchange – Jacqueline Rachelle Yee
Funderbeam Exchange has demonstrated outstanding performance in 2021 at a 276% increase in cumulative trading values, and the Exchange is continuing its growth momentum in its 2022 action plans.
The Funderbeam Exchange has company issuers admitted to trading on the marketplace across 19 industry segments, and located in both Europe and Asia.
In the future, the key metric to assess the Funderbeam exchange will be Total Settled Trades, covering both open market trades, private trades and secondary settlement transactions.
Total trades settled officially crossed 100,000 on the 9th of October. Almost 62k of these trades took place in 2021, this being three times the total of 2020 and almost four times the 2019 total. In total, we have now seen over €21 million of trades on the marketplace.
We serve companies and investors across the globe and have 17 different investable industries and 72 investable instruments presented.
Jacqueline has also written a piece on why The Funderbeam Exchange is different to other stock exchanges, please check it out and share with anyone who might find it useful.
Product – Katri Kubar
Funderbeam is a two-sided marketplace for founders and investors.
For founders we offer;
1) fundraising – for getting fuel and publicity to grow their business
2) listing and secondary settlement solutions to provide liquidity to early employees, investors and founders.
For investors, it is about the opportunity to invest in growth companies that wouldn't otherwise be accessible.
For 2021 the focus is speed, clarity and responsiveness and excellence in the core business to support the planned growth. This means 1) making the fundraising process three times faster and 2) structuring the listing product better, continuing to improve the platform in fast iterations, and of course listening to community feedback.
For 2022 the focus will be on supporting our expansion and introducing a solid "Platform as a Service" (PaaS) for private offerings and fundraising for professional investors like angels, VC's, Family Offices, and accelerators.
Baltic Region and Finland – Ardo Mardisoo
During first 10months of 2021 we had had a strong growth in Estonian market:
17 successful fundraisings and €13M+ funds raised + adding 3-7 more fundraising during November/December
Together with our Finnish partner – Startmore – we helped to successfully raise funds for first 3 Finnish companies.
We added 6500+ new investors from Estonia, Finland, Latvia and Lithuania.
In 2022, besides working hard in Estonian market, our growth will come from:
Focusing on Finland
Preparations for Lithuania & Latvia market entry
Partnerships with regional BANs & investor organisations
Denmark/Scandinavia – Christian Gronlund
Denmark is a great place to start the Scandinavian journey due to several reasons:
We are seeing more and more professional investors in Denmark and we are also more successful in attracting international capital.
We are also seeing a growing interest to invest among the Danish population.
The co-op movement is still integrated as a core value to many Danes, and hence the thought of joining forces to make things happen is not new at all in Denmark.
Crowdfunding doubled in Denmark last year.
The Danes have a strong focus on changing the world for the better, and we are seeing a huge movement of people engaging in green initiatives. With Funderbeam, people can now invest – and therefore "vote" – directly with their money. We have seen other initiatives gain traction due to this trend and we are expecting the same for Funderbeam.
For 2022:
Pipeline of 150 companies ranging from B2B-SaaS, Energy-tech, Sustainability, Fintech, Healthtech, Foodtech, Retail and much more.
Collaborations with important stakeholders in the Danish ecosystem for start-ups (e.g. DanBan, Vækstfonden and Keystones)
Establish a presence for Funderbeam to be the preferred platform among Danish investors
We are looking into green assessments for start-ups together with external NGOs
Go on a Denmark tour to meet with start-up hubs, investors, etc. outside of Copenhagen
Grow the amount of Danish investors on the platform through events, PR and network.
Croatia and SEE
July to date, 3 Croatian public fundraises totalling €1.3m + one Macedonian €150k
Completing an agreement with Danube Angels and expanding our cooperation with Zagreb stock exchange.
Finalizing an agreement with D-platform to start fundraising in Albania , Kosovo and Macedonia
Agreeing a cooperation with the biggest business newspaper in Croatia – Business news
Q & A with Madis Müür – "How I made my first million on Funderbeam"
We were delighted to welcome Madis to the first Funderbeam Ignite, and Oli chatted with him about the following topics;
How long have you been investing on Funderbeam?
What is your general strategy around building a portfolio on Funderbeam?
How many investments have you made and hold at any one time?
How was it possible to make your first €1m on Funderbeam?
The Funderbeam Awards 2021
Most Engaged Investor
Madis Muur – For over 400 interactions on the platform!
Top 3 Most Traded Companies
Most active Trader of the Year
Tonu Daniels – Over 7,500 trades on the platform in 2021.
Growth Rocket of the Year
Most Diverse Portfolio
Kristjan Kerik – Over 70 instruments in his portfolio!
Funderbeam Ignite – A Summary
We signed off from our first event by repeating our request for feedback from you, our investors and platform users. Be a demanding customer, ask more of us.
With your input, we will endeavour to make Funderbeam the best possible platform for Founders and Investors.
Read Next