In the Hot Seat – Change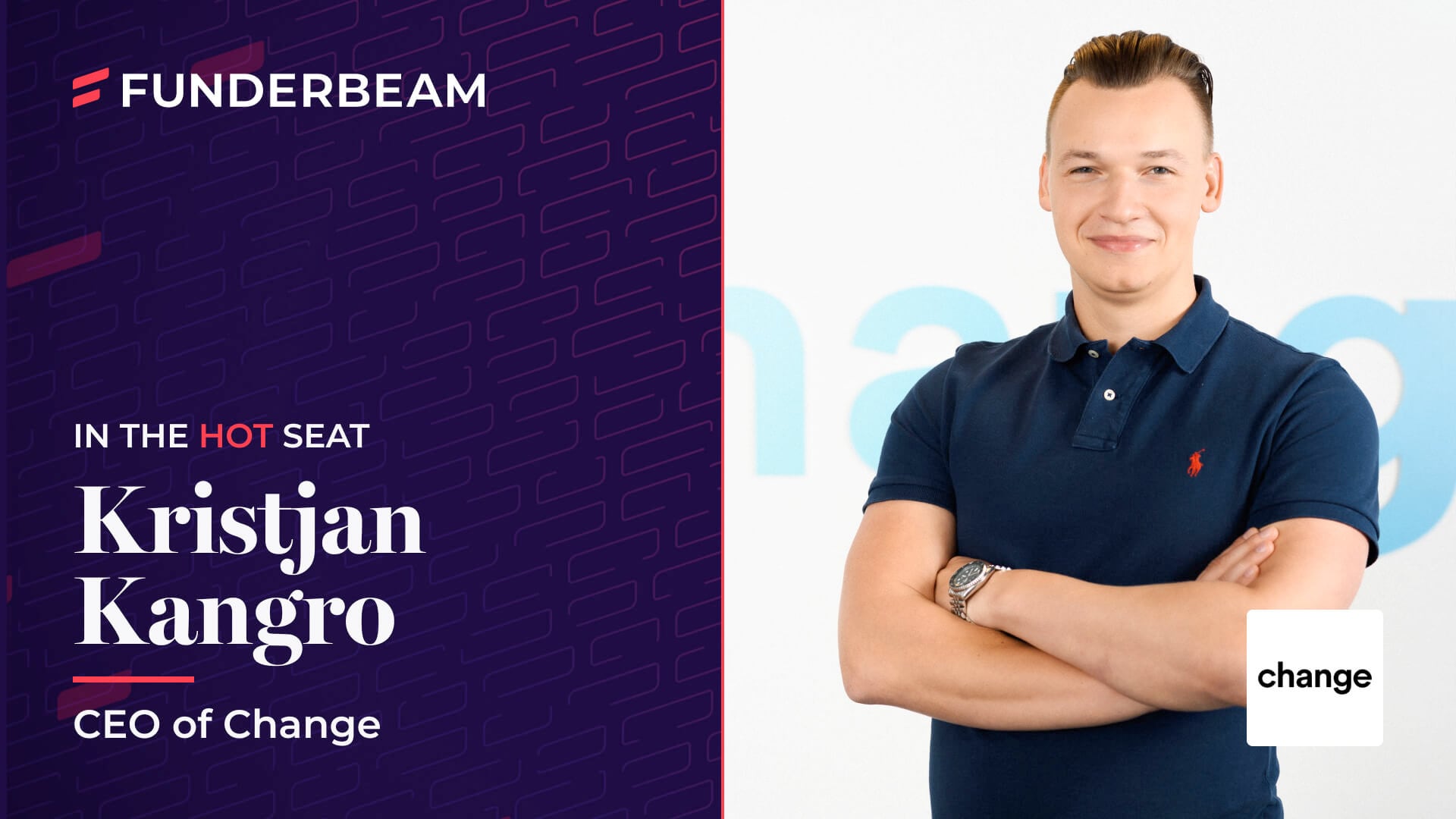 Change is a cryptocurrency trading application. We asked Kristjan Kangro, CEO of Change, to take the Funderbeam Hot Seat to answer common questions asked by investors and find out a bit more about the future of the business.
Tell us in a few sentences about your company and the product.
Change is an investment app that makes investing in crypto and other assets super easy. We have an ambitious and fun team of 95 (and growing), who are passionate about removing the barriers and complexities to wealth creation. With super low fees (zero fees in Bitcoin trading) and a customer-centric approach, we allow every person the opportunity to enter the investment world hassle-free.
How was 2021 for Change? What were your key challenges?
2021 was exceptionally good! We experienced 160% growth in new customers and an 807% increase in product revenue in 2021. Meanwhile, trading volume hit an all-time high with €1.13bn traded in 2021 – an 846% annual increase.
What are your key goals in 2022?
We are concentrating on improving the product itself to near perfection this year. We have listened to our customers and our incredible community members. Considering their feedback, we have in-app improvements coming up with some long-awaited new products/features.
What is the outlook for the Fintech sector in the coming year?
The outlook is – as always in the fintech field – busy, ever-changing and full of opportunity. One of the biggest challenges we face is finding the right talent to join our passionate, expert team and help us grow even faster. Being in the decentralised crypto world, it is important to continuously prove our app to offer a safe, reliable and transparent investment opportunity, especially as more 'non-techy' consumers look to crypto assets for the first time.
Are there any key trends in the Fintech sector essential to Change?
Diversification is king. As people become more educated in the investment world, they are no longer putting all their eggs in one or two baskets but being increasingly tactical about sharing their money across multiple assets of varying opportunity and risk. For us, this means continuing to expand the variety of products we are able to offer within one application in order to be the ultimate one-stop-shop, hassle-free experience.
Who are the principal shareholders and management of the company, and are there any plans for future hires or positions?
As we continue to grow rapidly, so does our C-level team, with recent significant hires such as ex-Wise team members Roman Rossov (VP of Growth) and Mikhail Luzhetskiy (CFO) bringing the experience and drive to help take our business to another level. On the regulatory front, too, we now have a brokerage licence in Amsterdam, making us one of the only businesses globally to hold both a traditional and crypto investment licence, and a dedicated Global Chief Risk and Compliance Officer, Ronald Wan der Wal.
More than this, though, we appreciate the vital role every single changemaker plays in our success and continued growth.
Can you profile or paint a picture of a typical customer of Change?
As the crypto world continues to break into the mainstream, we are pleased to see a much wider pool of changemakers, ranging from ages 18 through to 68+ and from various nationalities and backgrounds.
That being said, our core customer median is a 31-year-old male. As we advance, we aim to break through the stereotype of crypto being confined to the 'young, male and tech-savvy' and open it up to a much wider audience, especially getting more women on board.
The beauty of our app is that it has been purposely designed to be as simple as possible, making it the obvious first port of call for investment newbies who want to make their first steps in the finance world. Making life even easier, we offer company accounts for people as well.
What is your key message to customers, and how do you convey that information?
The continued rise of cryptocurrency has shown the potential of decentralised finance in becoming a crucial part of our way of life. But this is just the beginning. Going forwards, global finance can no longer be dictated by the minority and must become more open, transparent, accessible and available to everybody to better serve the modern world.
Our mission is to help make this happen by making it incredibly easy for anyone to invest, regardless of where they are in the world, their 'bankability' or how much money they have in their back pocket. With Change, users can start with as little as 10 Euros, allowing everyone to make their money work harder for them, ultimately in order to secure more.
What would you say the most significant challenges are for Change going forwards?
Our ultimate challenge and, in turn, opportunity is to become a unicorn. Obviously, though, Rome wasn't built in a day. Our focus remains on ensuring a superior customer experience and growing our community – two equally crucial steps in helping us achieve this goal.
As with every fintech start-up, too, a big challenge is recruitment. We are a business founded on our people, who share an incredible passion and commitment for what we do. As we continue to expand, finding the right people with the skillset and energy to fit the changemaker mould and help us remain primed for growth is difficult.
What area/geography/sector presents the most significant opportunity for Change?
With a standard investment licence in the bag, we can now offer a full range of financial services to the 453 million people living in the European Economic Area. For now, though, on a European level, our focus remains on localising our products in key high-growth areas such as Spain.
Last year, we also made our first significant expansion outside Europe with a new office in Singapore, providing a key hub as we continue to grow our presence in the developing Asian market.
If you could leave investors with just three words to describe the future of Change, what would they be?
Everybody deserves wealth.
With the traditional financial structure, the sad irony is that it has always been far easier for the rich to get richer and the poor, without access to traditional investment opportunities, to get poorer.
The emerging crypto world changes this, helping to create a genuinely global economy for the first time.
How can Funderbeam investors help you?
We have managed to attract a really awesome and engaged community of investors. Change wouldn't be what it is today without them. Everyone who has invested in Change can help us by recommending Change to their friends and family as the investment app to use and the company to invest with.
Read Next