investing
November 22, 2021
ÖÖD Mirror Houses – Now raising investment on Funderbeam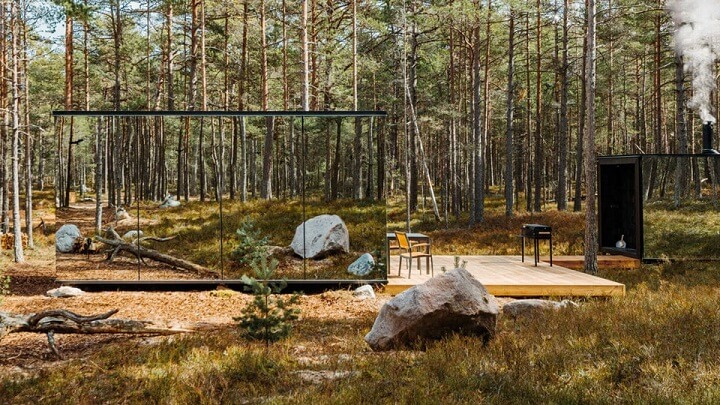 ÖÖD Group is raising equity on Funderbeam to expand its ÖÖD Hotel business and create a permanent presence in the United States
An Introduction to ÖÖD Group
ÖÖD Group is a design-led manufacturer of small accommodation units, offices, saunas, and spaces for other uses. The group's signature product is the ÖÖD Mirror House. They also utilize their own Mirror Houses and operate them under the ÖÖD Hötel brand.
Headquartered in Tallinn, Estonia, ÖÖD is a global company that has sold products to 21 different countries in the EU, North America, South America and Africa, and been profitable for the last 5 consecutive years.
In 2021, the ÖÖD Hotels in Estonia had an occupancy rate ranging from 65% – 88%, with nightly rates averaging approximately €200 per night, generating monthly revenue of €5,315.
As part of the ÖÖD Hötel brand, we operate ÖÖD hotel sites comprising of Mirror Houses that are either owned by the company or operated in cooperation with local partners who own them.
ÖÖD Group has been receiving continued demand for houses in Europe and have seen a particularly strong interest from the North America, where ÖÖD have received 678 sales requests in the first 10 months of this year.
As such, they have decided to invest further capital into the ownership and operation of Mirror Houses and to expand sales and production efforts in the US, where they intend to build and install houses. To realise growth plans, ÖÖD are seeking €0.5M – €2M of equity capital from investors through Funderbeam.
ÖÖD Group Business Models
ÖÖD houses can be sold as turnkey products to private owners.
However, in addition to this, ÖÖD has started to roll out the ÖÖD Partnership and ÖÖD Franchise Model to address private landowners who seek to operate the houses, and who are interested in an investment-light way to kickstart their hospitality business.
In the ÖÖD Partnership Model, ÖÖD provides the houses to landowners and hospitality operators and agrees on a rental share with the partner. In the ÖÖD Franchise model, ÖÖD actively supports the hospitality operators with central marketing and branding in return for an ongoing franchise fee.
They expect recurring revenue streams from ÖÖD's hotel to grow, as are soon planning to increase the rental revenue from higher franchise and booking fees.
ÖÖD Group's plans for use of funds
The plan is to allocate 60% of the proceeds towards the development of the ÖÖD Hotel business, and 40% of the proceeds will be directed towards creating a local presence in the US. This includes purchasing materials, establishing a supply line, and building a warehouse.
The funds raised from this round will be mainly allocated towards the manufacturing of ÖÖD Mirror Houses, which will either be operated by ÖÖD or by a local partner in return for a rental share. While a loan repayment may be exercised at any point in time, we do not intend to use the funds raised from this round to repay these debt obligations.
ÖÖD Group Goals
ÖÖD Group has a clear ambition to provide travellers across the world (Africa, Asia, Australia, Europe, North America and South America) with a novel hospitality offering. ÖÖD is seeking to combine unique and exciting locations with private and beautiful spaces, adventure, and luxury.
Our vision for the next 10 years is to have more than 10,000 ÖÖD Mirror Houses deployed in beautiful locations around the world, and a centralised platform from where reservations can be made by users and managed by clients.
Capital at Risk
Read Next