Funderbeam Private Market: A Guide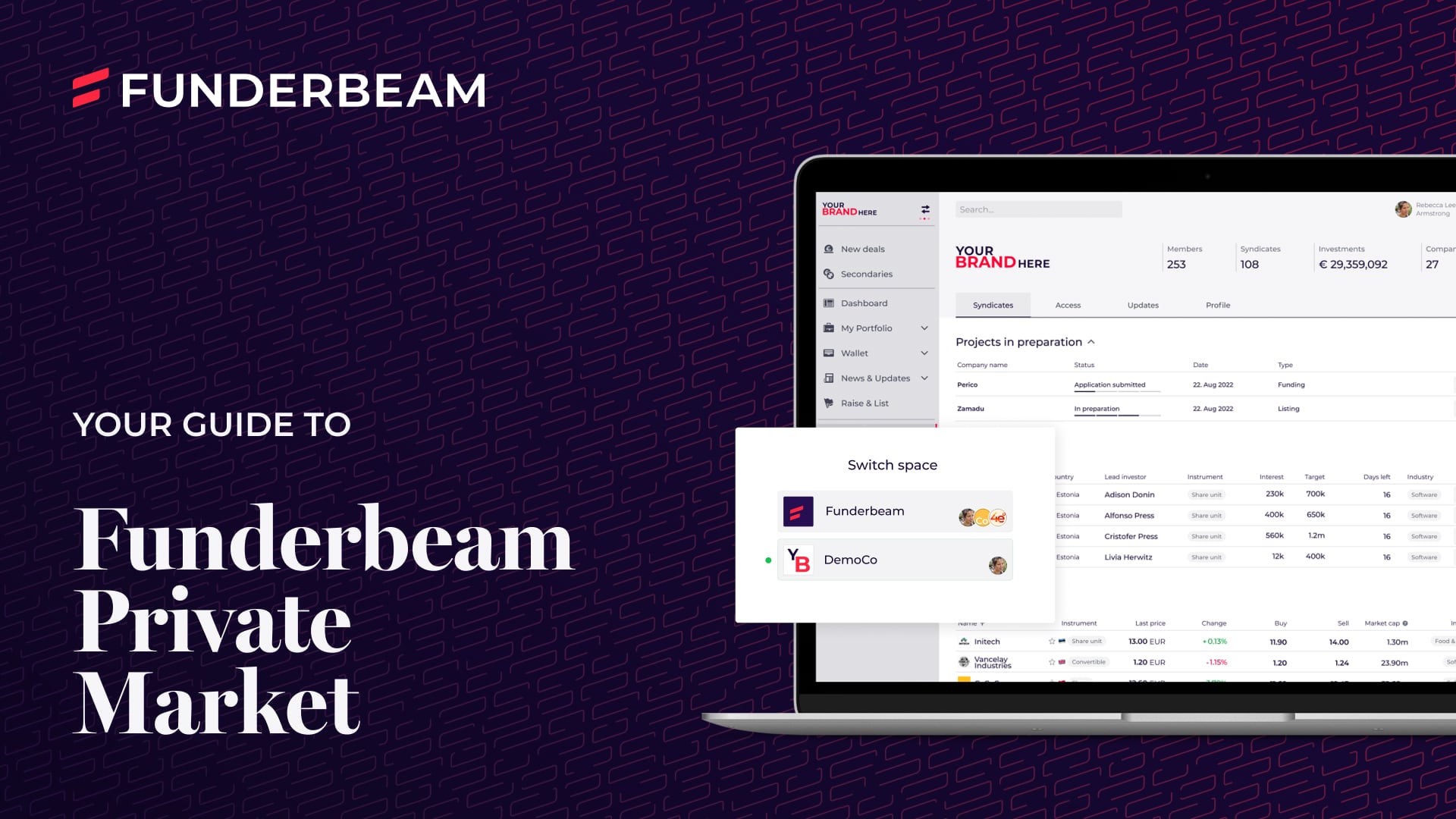 Your Guide to Funderbeam Private Market
A guide to Funderbeam's Private Market product for Investor Networks.
An Introduction to Funderbeam's Private Market Product
Funderbeam's Private Market product allows investor groups such as Angel Networks, VCs, Incubators and Accelerators to execute funding rounds and trade shares* in the companies they have invested in within a regulated, private space.
Members of the Private Market can see all existing investments within their wallet and easily take part in new funding rounds as soon as they are launched.
The companies raising funds work with us to publish compliant, regulator approved investment offers to potential investors, and we create and administer the structure in which they do so.
Benefits of the Funderbeam Private Market
Benefits for the Company
We handle setting up the SPV/Nominee
Simplify investor relations – keep your investors up to date on the platform.
Potential access to an extended private network of investors, BANs and VC.
Grow with us – run future rounds quickly with Funderbeam as your business grows.
We take care of Investor KYC/AML responsibilities
Liquidity events for founders – raise capital or release equity.
Benefits for the Investors
Trade shares with members of the same private network.
All of your network investments in one place.
An online portfolio as a convenient source for investment analysis and accounting.
Immediate access to new deals as they launch.
All investment offers are reviewed and approved by the Evaluation Committee to make sure it meets all regulatory requirements.
Financial Promotions are approved by Funderbeam
Benefits for the Network
Build a marketplace to house all investments via Private Listings
Provide your investors with the benefit of liquidity.
A cost effective and efficient way to syndicate new investments.
Help your portfolio companies grow by sharing deals with other networks by invitation.
Dramatically reduce the administration of onboarding new investors and collecting and distributing investments.
Who can use a Private Market?
The Funderbeam Private Market is currently used but not limited to the following types of investor networks;
Business Angel Networks – Including large national angel networks and smaller investment clubs
Accelerators – Help your cohort companies raise funds faster by putting their funding rounds in front of your extended network.
Incubators – Support pre-seed companies by providing the option of raising funds on our platform with exclusive access to a limited network only. – Your network will know the companies intimately and may wish to invest before anyone else
Venture Capital – Invest directly into companies alongside Angel Networks and others with the benefit of liquidity
Private Equity Groups – Invest in later stage companies and see those investments inside a regulated Private Market. Trade shares amongst your network or invite further investment into the market from outside.
Impact Investment Networks – Create a network of like minded investors who are focused on social or environmental impact investments which can be launched and funded via Funderbeam Private market
Family Offices – Manage your investments via a Private Market with exclusive, invite only access to deals and for a limited number of investors
Use Cases of the Private Market
Some examples of how our clients are using the Funderbeam Private Market.
Example A – National Business Angel Network
The Estonian Business Angel Network (EstBAN) uses Funderbeam to syndicate their investments into early stage companies.
Funderbeam works with the investee company to set up their investment offer, which includes a legal structure and financial promotion.
Once this financial promotion is approved by our evaluation committee, the deal can be launched into the EstBAN private market, where all EstBAN members can see the deal and invest if they choose.
Once the funding round is finished, we transfer the funds to the company, and place the shares in the investors wallets.
If the company is admitted to trading to the Funderbeam Singapore Marketplace with the Private Market function, shares can be bought and sold amongst the investors on Funderbeam Marketplace, if the company is not admitted to trading then OTC trading is possible.
Example B – International Investor Group
This investor network prefers to remain anonymous. We will call them A-Group.
A-Group has a wide network of investors who live in various countries spread across the globe.
They all have something in common however, which is an association to a particular European country, whether it be by birth, ancestry or simply that they lived there for a while.
The investors want to support ambitious businesses from this country even though they no longer live there.
The Private Market for A-Group allows them to support these businesses by promoting their funding rounds to this global network. Funderbeam is well known for enabling investment without borders and has investors from 133 countries, A-Group therefore entrusted us with providing a solution for their investors.
We work with the companies to prepare their funding rounds, identify and create the appropriate structures and then launch the deals to the A-Group investors who can invest via the Private Market, and we take care of the transactional element.
Example C – Sector Specialist Incubator
Again, this group wishes to go unnamed, so we will call them FutureStart.
FutureStart runs a comprehensive incubator programme for companies in a niche sector. Their programme lasts for approx. 12 weeks, and ends with each company in the programme receiving an investment from FutureStart.
The companies then extend that investment into a wider, pre-seed funding round which is then opened up to FutureStart's wider investor network via the Private Market.
The companies also open their investment offer up to their own network, who in turn can be invited into the FutureStart private market which creates a network that is engaged and interested in investing in a specific sector.
FutureStart also works with Funderbeam to invite members of our own network in to their deals, where we know that specific investors or networks using our platform have an interest in the FutureStart sector.
How does the Private Market Work?
The Syndication Process
Onboarding Investors to your Private Market
Each network has to assign an administrator. The network administrator can send an invitation to all the network investors who would like to have access to the Private Market.
Each investor must go through KYC/AML verification, client categorisation and appropriateness assessment and get onboarded with Funderbeam.
Once they have verified their identity they will be able to see the Funderbeam Public Marketplace and also switch views to the Private Market offering from Network in question.
Networks are assigned a dedicated relationship manager who can help them with investor onboarding and any other matters that arise.
How to Setup a Private Market with Funderbeam
If your network would like to simplify the syndication process, trade secondaries and see all investment holdings in one simple private space, please get in touch.
Let us create a Private Market for your network and begin funding more ambitious growth companies without the hassle.
We will discuss how many deals you do in a year, there is no minimum, and when your next funding round is.
Once we have agreed the terms and type of usage, we can create a Private Market with your own unique url e.g. ABCINVESTORS.FUNDERBEAM.COM and you can begin inviting investors ahead of the first funding rounds.
Costs of a Funderbeam Private Market
There is no cost for a network to have a Private Market.
Companies, Investors or the Network are charged per funding round with a standard fee of 2% of the funding round capped at £4,000 / €4,500.
* Funderbeam can facilitate two types of trading (i) OTC bulletin board type of trading and (ii) if instruments are admitted to trading Funderbeam Singapore Marketplace automated trading.
Read Next