insights
January 11, 2022
Start-up Speak – A guide to start-up lingo and terminology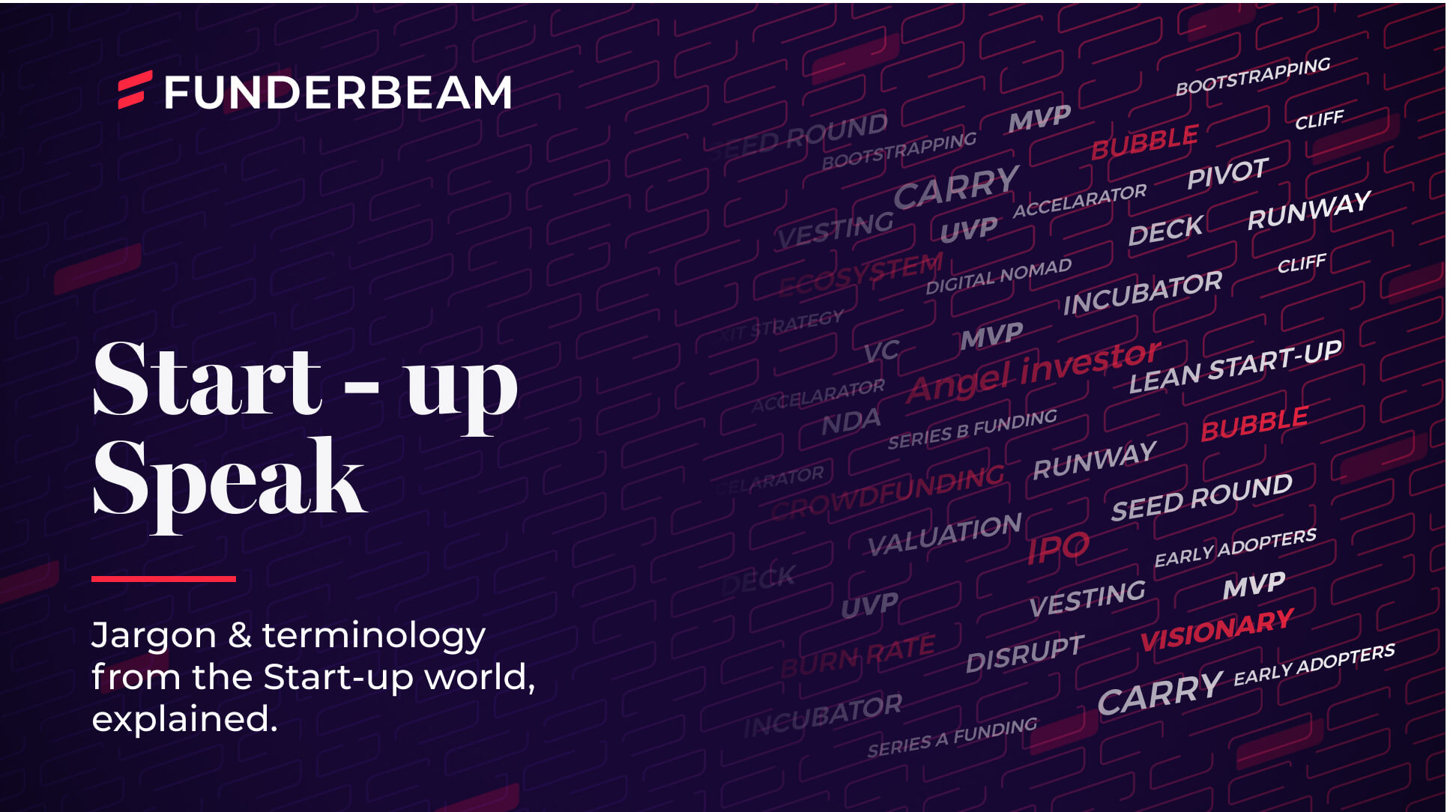 Whether you're in charge of pitching a start-up, a venture capitalist or angel investor hopeful of making a good ROI, it's important to know what you're talking about.
The world of equity funding comes complete with its own unique lingo. When talking about start-up funding, you'll invariably come across a whole host of new terms and very specific language that needs some breaking down.
To that end, here is a handy list of start-up terminology and jargon you need to know to guide you on your investing or fundraising journey.
Accelerator
A start-up accelerator is a program that mentors promising start-up companies that already have a minimum viable product (MVP). Not only that, start-up founders can also potentially receive investment capital as well as opportunities to network with potential investors. A start-up accelerator aims to propel fledgling start-ups to the heady heights of rapid growth in months instead of years.
Angel investor
A person who puts their own money into a start-up within an angel (or pre-seed) round of investing. Angel investors come in the form of wealthy entrepreneurs, friends and family. Angel investors get in on the bottom floor of an investment opportunity and hope that their high risk, high reward speculation yields significant ROI.
Bootstrapping
Entrepreneurs that create, market and grow their own business with a minimal use of capital are regarded as bootstrapping. Generally, bootstrapped start-ups are funded primarily by Founders and any early-stage revenue generated by the business.
Bubble
The moment in time right before an overvalued market bursts. When the dot-com bubble burst in 2001 a lot of tech start-ups fell by the wayside.
Burn rate
This term describes how fast a new company is using up its capital. A company's burn rate dictates its life expectancy before more funding is needed or before it becomes cash flow positive.
Carry
This is one way Venture Capitalists (VCs) get paid. For funding a new venture, a VC firm will charge management fees plus require a share of the profits when the fund sells stock (known as carry). You may well hear the phrase "two and twenty" used a lot. This describes a 2% management fee and 20% carried interest on any profits.
Cliff
This relates to when employees are given their full share allotment at once (also known as becoming fully vested) at a specific time rather than receiving gradual amounts over time.
Crowdfunding
Crowdfunding relies on very large numbers of people each investing small amounts of capital via crowdfunding sites to finance new business ventures. Crowdfunding can fall broadly into three types;
Peer 2 Peer Crowdfunding
This form of crowdfunding often involves groups of people pooling capital and providing a loan or debt based facility to a company.
Equity Crowdfunding
Equity crowdfunding is where companies offer shares or other instruments to the 'crowd' in exchange for capital. This form of investing allows retail investors to acquire a stake in an early stage company or start-up proportional to the amount they would like to invest. Platform's like Funderbeam provide businesses the opportunity to market their funding rounds to a large number of potential investors.
Reward based Crowdfunding
Perhaps the most well known form of crowdfunding, companies offer rewards in exchange for capital. These rewards can be in the form of products, discounts or other experiences that would otherwise be not made available to the public.

Deck
A presentation (also referred to as a pitch deck) that is given with the help of several slides to tell an audience a compelling story about your business. A good deck is one of a founders most useful weapons when trying to raise funds.
Digital Nomad
Remote workers who travel frequently across the globe and use modern communication technologies to perform their jobs or conduct their online businesses. The rise of remote working has seen people create businesses from their bedrooms, public workspaces, and the beach!
Disrupt
When startup businesses use innovative technologies and business models to challenge and eventually outperform industry stalwarts (think about how Uber disrupted the traditional taxi cab industry).
Early adopters
The first users of a new product who typically serve as influencers and reviewers on social media. These users often become valuable brand advocates for the product in question.
Ecosystem
A start-up ecosystem is comprised of accelerators, incubators, competitors and investors.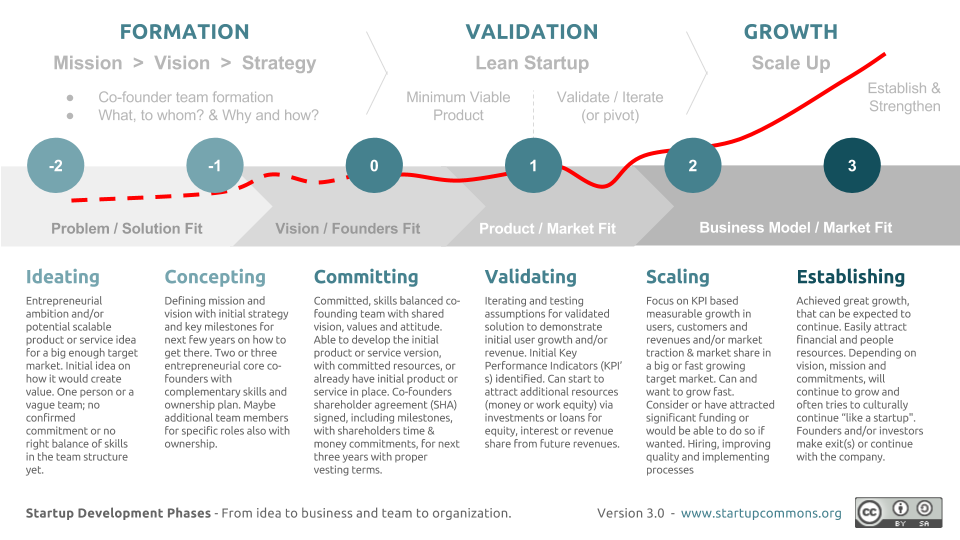 Elevator Pitch
Can you explain your company or product in just a few clear, simple sentences? This is known as the elevator pitch. Could you summarise your offering to someone else in the time it takes to get in and out of an elevator! A key skill for all Founders is how to summarise their offering in a clear, succinct and simple way.
Exit strategy
This refers to a start-up entrepreneur's strategy to sell their company to give investors a return. This may mean selling ownership to another company (via a merger or acquisition) or going public with an IPO.
Incubator
Start-up incubators work with entrepreneurs to fine tune their business idea in order to build a company from the ground up.
IPO
Initial public offerings are when a company goes public for the first time and offers shares to retail and institutional investors alike.
Lean start-up
Start-ups that get launched quickly using only minimal capital.
MVP
A minimal viable product is a new product that is brought to the market in its most basic form. The aim is to get the attention of early adopters as well as test the product early in the development cycle. This approach is used frequently by software companies who want to receive user feedback quickly in order to better enhance and improve later iterations of the product.
NDA
Non-disclosure agreements are used by start-ups to protect sensitive and proprietary information about their company. NDA's are legally binding contracts that ensure anyone who is given access to such information cannot disclose it.
Pivot
A significant change in direction for a company. Pivots are course corrections that come as a result of feedback, user testing and market analysis. In recent times, many businesses have been forced to pivot due to events outside of their control like Brexit or the Covid-19 pandemic.
Runway
Runway refers to how much a startup's cash can keep it going before it runs out of money or needs to pitch for further investment.
Secondary Market
A secondary market is a financial market in which previously issued instruments such as shares are bought and sold. There are a number of different types of secondary markets, the most well known being the various global stock exchanges such as the London Stock Exchange and the New York Stock Exchange. Funderbeam's regulated secondary market for private companies is the only one of its kind in Europe.
Seed round
This is the first official round of equity funding. Usually it is the first lot of real money that a startup business raises.
Series A funding
In this round of funding investors look for startups that have a proven record of generating revenue as well as promising signs of growth.
Series B funding
Getting beyond the initial startup and development phase means companies look to Series B funding to help continue their growth to the next level.
Series C funding
Already successful companies might use this later round of funding to acquire further capital to create new products and expand into new markets.
Unicorn
A business that has hit a valuation of $1bn dollars or more.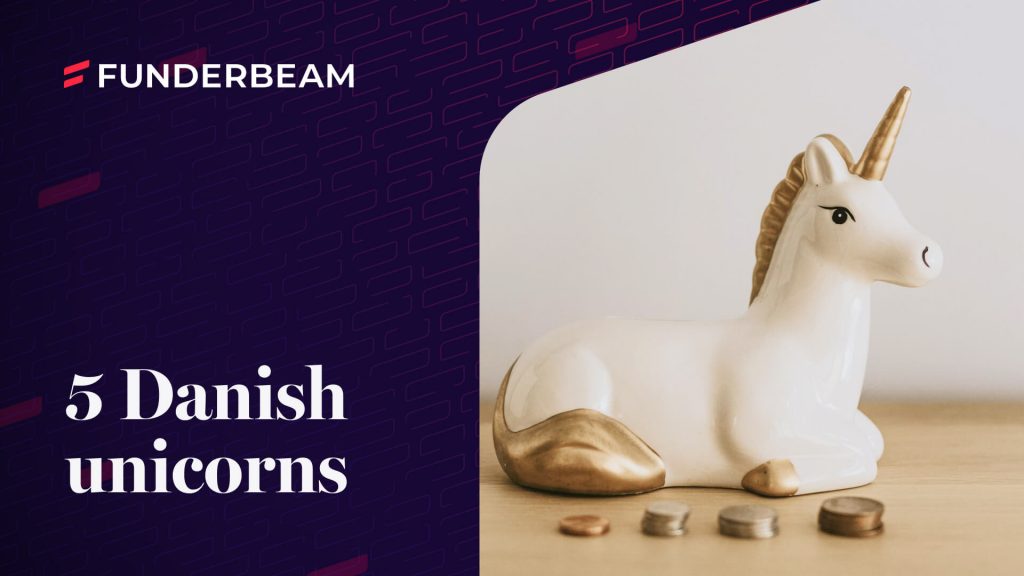 UVP
A unique value proposition is an important thing for investors to look for in a company. It is a product or service that no other competitor can offer and one that solves a problem like no other company.
Valuation
Put simply: this describes what a company is worth according to the company itself or market analysis. Valuations are a cornerstone of investment rounds, and are a key metric for potential investors.
VC
Venture capitalists invests in start-ups. Whereas an angel investor might invest a lower sum of money, VCs typically pour significant capital into companies showing promising signs of growth in order to receive greater ROI.
Vesting
The timeframe within which CEOs and employees receive the full allotment of their allotted share holdings in a company.
Visionary
Great visionaries are entrepreneurs who can predict the future before it's happened. They also have the power to sway others to believe in their vision as much as they do. Examples include Steve Jobs and Elon Musk.
Funderbeam's tech-powered marketplace enables anyone to buy and sell investments in ambitious companies, while founders can raise capital without borders.
Are you interested in raising capital for your start-up? Why not discuss it with us?
Looking to invest in start-ups?
Read Next